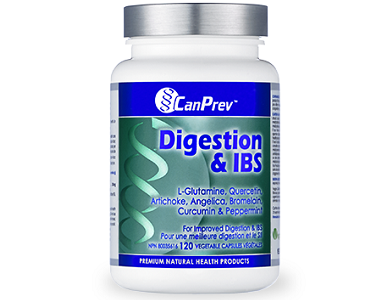 IBS
Updated April, 2023
---
CanPrev Digestion and IBS Review
---
Manufacturers Claim
The following review is for a product called CanPrev Digestion and IBS, this formulation promises to assist with the optimum supply of beneficial bacteria to manage IBS. The manufacturer has put together a blend of amino acids and antioxidants that will nourish cells in the intestinal walls as well as intensify the gastrointestinal function. Added ingredients will relieve the feeling of fullness and bloat, supporting the complete digestion of food. This supplement gives extra protection against symptoms of bloating and diarrhea.
Formula
Key Ingredients:
L-Glutamine – 350 mg
Quercetin – 125 mg
Artichoke leaf – 107 mg
Angelica archangelica root – 50 mg
Bromelain – 50 mg
Curcumin (turmeric) – 31 mg
Peppermint (mentha x piperita) leaf – 20 mg
An amino acid that affects the processes of growth and function of cells in the stomach and intestines, L-Glutamine. As an anti-inflammatory, Quercetin may prevent a leaky gut. As a stimulant to promote the flow of bile from the liver, Artichoke leaf is used. As an aid for IBS and digestion, Angelica archangelica root is used. As an aid against swelling and inflammation, Bromelain is used. As an anti-inflammatory and an antioxidant, Curcumin (turmeric) is used. As an aid against IBS such as abdominal pain, bloating, and gas, Peppermint is used.
Only the highest quality of ingredients which has been proven by clinical studies will be effective in treating IBS these ingredients are, Vitamin D (important for IBS patients), Psyllium Husk (treats constipation, IBS, and diarrhea), Perilla (improves digestive health), Aloe Vera,(for the treatment of discomfort, flatulence, providing natural, gentle constipation relief), Ginger (used as an anti-inflammatory), BioPerine (increases bioavailability of nutrients in supplements), Piper Longum (assists with pain and discomfort in gastrointestinal disorders), and Cumin (used to aid in digestion).
Other Ingredients:
Vegetable-grade magnesium stearate
Vegetable capsule.
Vegetable-grade magnesium stearate poses as a contaminant and may hinder the result of the supplement.
Instructions
The recommended dose for adults is to take 3 capsules twice daily with breakfast, lunch or dinner or as directed by a healthcare practitioner. It is advised to take this supplement with a lot of fiber and probiotics. If the consumer is taking this supplement for longer than three months, a healthcare practitioner should rather be consulted.
Cost
A container of 120 capsules at a price of $34.99 available online through various third-party retailers.
Possible Side Effects
The following warning goes out to the consumer to avoid this supplement if they are breastfeeding or if they have a medical condition including gastrointestinal lesions, peptic, stomach ulcers, anemia, gallstones, excessive stomach acid, or on a low protein diet or before having surgery. Do not use if allergic to plants of the Daisy family (Asteraceae/Compositae) or if there is a bile duct obstruction. If symptoms persist or worsen a healthcare practitioner should be consulted.
Avoid prolonged exposure to sunlight, UV light or UV therapy as ingredients may cause photosensitivity.
Guarantee
The consumer is assured of a 14-day money back guarantee on unopened items, if they are unhappy with the purchase they may contact the manufacturer via email, supplying the order number and reason for return will enable them to claim a full refund. If the product has been opened the returned product will be eligible for a store credit, depending on the amount of the product consumed.
CanPrev Digestion and IBS Review – The Bottom Line
CanPrev Digestion and IBS is a Vegan-friendly supplement and the consumers using this product has rated it a five-star product. The concern we have is that there are only two clinically proven key ingredients in this supplement. As per doctor's recommendation should all the clinically proven ingredients be present in a supplement. These ingredients will aid the digestive process as well as soothe intestinal pain and promote long-term health benefits. The consumer has not been taken into consideration as Magnesium Stearate is one of the other ingredients, which may hinder absorption of the supplement.
Reviewed & delivered by our panel of experts at Reviewy.