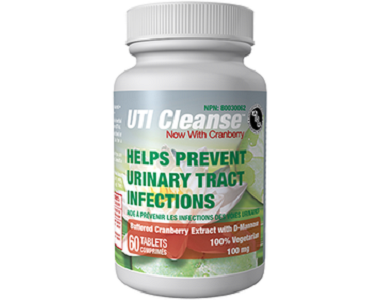 UTI
Updated November, 2023
---
AOR UTI Cleanse Review
---
Our product review is focusing on a product called AOR UTI Cleanse. This powdered supplement is formulated for the specific purpose of treating urinary tract infections. This natural product is designed to reduce the binding of E. coli bacteria to the urinary tract, helping to clear the infection.
Formula
D mannose – 1000 mg/serving
Cranberry juice – 100mg
D-mannose is a small sugar that binds to the E. Coli and are washed out by the urine. Scientific studies have shown that D-mannose is absorbed into the blood from the intestine and is transported around the body, where some of it is deposited into the urinary organs, where it can perform its function. Cranberry juice contains antioxidants, which help to reduce the inflammation that was caused by the infection.
Instructions
Take 1-2 scoops of powder four to five times daily without food, or as directed by a qualified health care practitioner. Take with water. Use for a minimum of 4 weeks to see beneficial effects. Each tablet contains 1000 mg of D-mannose and 100 mg of cranberry juice.
Cost
The product is not available for purchase through the manufacturer's website, but rather from third-party retailers. We found a 120 capsule bottle of capsules on Amazon for $43.23. Shipping and taxes are extra. There are no new customer incentives nor bulk buying discounts offered by the manufacturer.
Possible Side Effects
Consult a health care practitioner prior to use if you are pregnant, trying to conceive, taking blood thinners or have a history of kidney stones, or if symptoms persist or worsen with use.
Guarantee
There is no information on the website to suggest that the manufacturer provides a guarantee or return policy on this supplement. Third party websites may have their own policies.
AOR UTI Cleanse  Review – The Bottom Line
In summarizing our review of AOR UTI, there were some positives and some negatives. We liked that the product is all-natural and that it contains no wheat, gluten, nuts, peanuts, sesame seeds, sulphites, mustard, soy, dairy, eggs, fish, shellfish or any animal byproduct. It is therefore suitable for vegetarians and vegans. The supplement contains key ingredients that have a good reputation for helping to fight UTIs. We have a number of issues with this product however. The first is the price. It costs $43.23 for a one month supply, and there are no additional new customer incentives nor bulk buying discounts to soften the blow. There is no information on the website to suggest that the manufacturer provides a guarantee or return policy on this supplement. Shipping is not included with the purchase price. When we checked on Amazon, there were no reviews whatsoever of this product which indicates that the product has very little traction in the marketplace. For all the above reasons, we recommend that you skip this UTI supplement and look for one with a reliable guarantee, that is better value for money, and that has widespread consumer reviews.
Reviewed & delivered by our panel of experts at Reviewy.