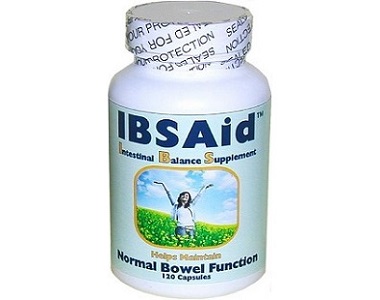 IBS
Updated October, 2021
---
IBS Aid Review
---
Manufacturer's Claim
This review will focus on a product called IBS Aid. IBS in this case stands for Intestinal Balance Supplement which helps maintain normal bowel function. This product is filled with a specific concentration of nucleotides. These nucleotides are claimed to be needed by the body to produce cells, which in turn are needed to carry out important bodily functions such as metabolism, cell growth and repair, and also to maintaining health functions. Learn more about the dietary supplement IBS Aid by reading our review below.
Formula
Yeast extract (Nucleotides/RNA) – 390mg
Maltodextrine – 66mg
Inositol – 44mg
IBS Aid claims to help the cause of IBS rather than focusing on the symptoms. It also claims to reduce and eliminate symptoms related to gastrointestinal distress such as incomplete bowel evacuation, constipation, gas, bloating, and painful cramps, just to name a few. It is gluten-free as well as vegetarian friendly. However, it does not contain BioPerine which helps with absorption and provides health benefits. In addition to this, it does not contain natural digestive enzymes to aid the digestive process.
Contact your physician if you are pregnant, lactating, afflicted by gout, or allergic to yeast before using this supplement.
Instructions
Users are suggested to start off with a dosage of 2 capsules daily for 30-days. It is best when taken with a meal. The manufacturer claims that customers start feeling a difference within a month. Users may then continue using the supplement, however, they only need to take 1 capsule a daily from this point forward.
Cost
A box of 30 IBS Aid capsules will cost $34.95. It can be ordered online from the manufacturer's website. The product is currently only being shipped within the United States. No discounts or bulk packages are made available by the manufacturer.
Guarantee
The manufacturer offers a 30-day money-back guarantee if you are not completely satisfied with the product. One may simply return the portion that is not used for a full refund. We do not agree with the return time, as 30-days is not enough time to see if the product will work. This is a weak return policy.
IBS Aid Review – The Bottom Line
We have studied IBS Aid, and after our review, we have found a few positive things about the product. A user is clearly informed on how and when the capsules should be taken and it comes in easy to swallow vegetarian capsules.
Nonetheless, there are still a few negative aspects about the product that we also need to focus on. First of all, the product does not contain natural digestive enzymes to aid the digestive process and it does not contain BioPerine for additional absorption. Furthermore, the product can only be shipped within the United States and the manufacturer does not offer their clients discount or bulk orders. Finally, the manufacturer lacks to provide a strong guarantee with enough time to test the product before having to return it for a full refund. Due to these reasons, we do not recommend IBS Aid for Irritable Bowel Syndrome.
Reviewed & delivered by our panel of experts at Reviewy.