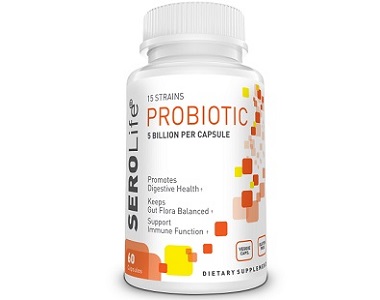 IBS
Updated November, 2023
---
Serovera Serolife Probiotic Review
---
Manufacturer's Claim
This product review is on Serovera Serolife Probiotic, a supplement that claims to alleviate gastrointestinal discomforts while improving digestion, fight-off harmful bacteria, as well as strengthen the immune system. The manufacturer claims that this product is the ideal support for irritable bowel syndrome (IBS) as it offers 15 strains of beneficial probiotic bacteria. In the following review, we shall assess if this product is the ultimate IBS solution available on the market; examining both the product efficacy and manufacturer support for the customer.
Formula
As mentioned, this product contains 15 different strains of probiotic bacteria including Lactobacillus, Bifidobacterium, and Streptococcus strains. These strains all have various benefits from breaking down lactose to supporting digestion to strengthening the immune system. FOS is a prebiotic to feed the probiotic bacteria and ensure they are healthy and strong. Unfortunately, the formula is missing popular anti-inflammatory ingredients such as aloe vera, ginger root, and turmeric to soothe associated pain as well as help with detoxification. Thus, the lack of these ingredients may inhibit the efficacy of the product and prevent the product from being a total care solution. These capsules are kosher and vegetarian-friendly, yet, they are not suitable for vegans. We are pleased to see that this product was manufactured in a GMP certified facility, however, this certification alone cannot ensure efficacy.
Instructions
To use Serovera Serolife Probiotic as a dietary supplement, take 2 capsules daily before meals and preferably on an empty stomach. Otherwise, wait 2 hours after meals to consume. These capsules are timed to react in intestines and have no after-taste. Each capsule contains 5 billion live bacteria, which is neither too high or too low of a concentration.
Cost
These supplements can be purchased directly from the manufacturer's website as well as third-party sites. 1 bottle contains 60 capsules (which should last 1 month) and retails for $31,96. This is rather costly. Although, the manufacturer does offer a variety of package offers such as a pack of 3 bottles for $25,60 per unit ($76,80) or a pack of 6 bottles for $22,66 per unit (135,95). While these package offers do offer some value, the bulk deals are still more expensive than competing bulk offers available on the market. The use of these supplements may become too expensive to sustain.
Guarantee
Servovera offers a 90-day manufacturer's guarantee for unopened bottles. While this returns policy may seem extensive and showcase confidence in product efficacy; there is no customer support for those wanting to test the product for themselves. This lack of customer support is unfortunate. Furthermore, there are limited customer reviews preventing us from further commenting on the potential quality and effectiveness of this product.
Serovera Serolife Probiotic Review – The Bottom Line
This product contains a vast amount of probiotic bacterial strains that would likely support digestion as well as alleviate certain symptoms associated with IBS. While the dosage may be adequate, the formula seems to be lacking certain ingredients that could soothe the pain often associated with IBS and thus, prevents this product from being a total care solution. Although there are package offers, the prices are still rather expensive. While there is a substantial guarantee available, the manufacturer does not offer curious customers the support they deserve to test the product efficacy for themselves. For these reasons, as well as limited customer reviews, we do not recommend Serovera Serolife Probiotic as the ultimate IBS supplement available.
Reviewed & delivered by our panel of experts at Reviewy.