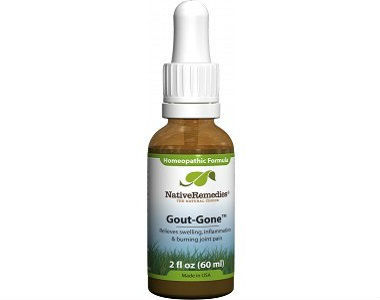 Gout
Updated November, 2023
---
Native Remedies Gout-Gone Review
---
Manufacturer's Claim
Native Remedies Gout-Gone is said by the manufacturer to be a homeopathic medicine for the treatment of symptoms of gout, including pain, redness and swelling of joints. The maker says it is especially helpful for relieving symptoms in the big toe and other small joints. It is also said to help regulate uric acid levels in the body.
Formula
As already mentioned, Native Remedies claims this product contains only homeopathic ingredients. These include:
Antimonium crud 6C HPUS
Benzoicum ac 6C HPUS
Ledum 6C HPUS
Nux vom 6C HPUS
Quercus 12C HPUS
Rhododendron 6C HPUS
Silicea 6X HPUS
Antimonium crud 6C HPUS is said to help with gout accompanied by gastric symptoms and pain in fingers and heels. Rhododendron 6C HPUS, Ledum 6C HPUS, Nux vom 6C HPUS and Benzoicum ac 6C HPUS help in different ways in addressing gout symptoms, especially as they affect the joints.
Instructions
You can either dilute Gout-Gone in water or or drip it directly into the mouth. When first taking it, Native Remedies recommends consuming 0.50 ml of the preparation every 20-30 minutes until symptoms are reduced. The maintenance dose is 0.25 ml 3-5 times in a day. Pregnant and nursing women should consult a health practitioner before using.
Cost
At the time of this review you could buy a 2 ounce bottle of Gout-Gone for $39.95. This will last a month or two, depending on how often you use it. It can be bought online via the manufacturer's website.  If you purchase via their auto-delivery subscription service, in which you can choose delivery every two to eight weeks, you get a 10% discount and free shipping.
Guarantee
Native Remedies offers a solid, a one-year, money back guarantee. The only condition is that you try its product for 30 days before initiating a return request.
Native Remedies Gout-Gone Review – The Bottom Line
The one-year money back guarantee is impressive. However, its relatively unknown ingredients (when it comes to mainstream gout treatments) and the fact that negative customer reviews on Amazon actually outnumbered positive ratings at the time of writing (48% versus 43% respectively) lead us to recommend you look for a more effective gout solution.
Reviewed & delivered by our panel of experts at Reviewy.