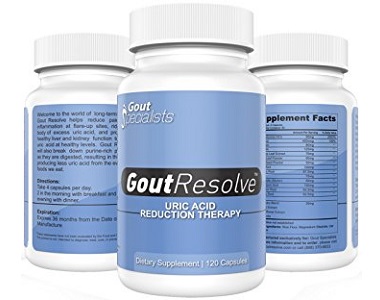 Gout
Updated September, 2021
---
Gout Specialists Gout Resolve Review
---
Manufacturer's Claim
This product claims to be specially formulated to reduce uric acid levels and the production of uric acid and also promotes healthy kidney and liver function and also claims to be a fast pain relief and also assisting with the reduction of inflammation. The manufacturer claims that this product helps break down purine-rich proteins which in turn decreases the production of new uric acid. This is a product review for Gout Resolve that informs you of the facts about this product.
Formula
B6 (Pyridoxine HCI) – 50 mg
Folic Acid – 400 mcg
Bromelain – 80 mg
Quercetin – 120 mg
Artichoke Leaf Extract – 75 mg
Thyme Leaf Powder – 50 mg
Celery Seed Powder – 50 mg
Yucca Root – 100 mg
Turmeric Root – 85.5 mg
Ginger – 75 mg
Milk Thistle (Silybin) – 80 mg
Alpha Lipoic Acid – 150 mg
Dandelion Root – 62.5 mg
Burdock Root – 62.5 mg
B6 helps produce antibodies. Bromelain breaks down proteins. Quercetin works as an anti-inflammatory. Artichoke leaf extract helps promote a healthy liver and digestive system function. Celery seed powder helps support healthy kidney function. Yucca Root is an anti-inflammatory. Turmeric root is also an anti-inflammatory. Ginger helps reduce pain and inflammation. Milk thistle helps to detox the body. Alpha lipoic acid assists healthy liver function. Dandelion root helps maintain a healthy liver. Burdock root helps cleanse the blood.
Instructions
The instructions on this product are not very clear which is rather concerning, however, the product label suggests that one serving consists of two capsules. It is not clear if these capsules need to be taken with or without meals and also they do not state if the capsules should be taken at specific times. This product does advise that it should be used long term in order to see results but suggests that you might see results within two weeks of usage.
Possible Side Effects
The manufacturer advises that pregnant and nursing woman should not use this product and that if you are using any medications you should first consult a doctor before using this product.
Cost
This product can be purchased online for $57 for a bottle containing 60 capsules. They also have a discounted $111 for three bottles. The manufacturer also offers a free two-week trial where you are only required to pay for shipping and handling costs, and the following 30 day supply at a discounted $37.
Guarantee
The manufacturer offers a full refund within 60 days of purchase on your last order should you not be satisfied with this product.
Gout Specialists Gout Resolve Review – The Bottom Line
This product does seem to come with a trusting full money back guarantee within 60 days of purchase, however, the manufacturer also suggests that you may not see any results with short-term usage and that the products results may differ for each person. It is worrying that the product's instructions are not at all that clear. This product does claim to be formulated using good ingredients, however, there are many other similar products available from leading brands who provide clear instructions which may assist in providing peace of mind that the product is being used correctly.
Reviewed & delivered by our panel of experts at Reviewy.