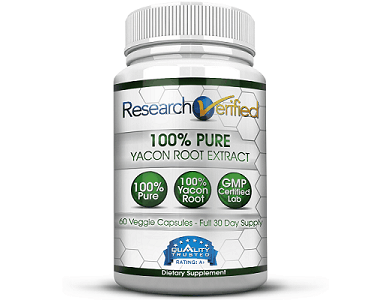 Yacon
Updated November, 2023
---
Research Verified Yacon Extract Review
---
Manufacturer's Claim
There are many weight loss supplements available on the market today. One of these kinds of supplements is made from the root of the yacon plant. This plant grows primarily in South America and has many health benefits known to it such as helping with weight loss, regulating blood sugar levels, lowering bad cholesterol, lowering blood pressure and strengthening the immune system. This review will look at the yacon product called Research Verified Yacon Extract. This product is formulated according to what clinical studies found to be effective. It contains the same formula that was used in clinical studies. This product is also manufactured in an FDA approved lab that is also cGMP certified. It also meets the quality standards set by the US Pharmacopeia for purity and strength. Many Research Verified detailed reviews show this manufacturer's adherence to quality standards.
Formula
This product contains only the single ingredient yacon root extract at a quantity of 1600mg per two capsules. This extract contains 50% fructooligosaccharides. The fructooligosaccharide content of the yacon plant is what makes it so valuable. This is an indigestible form of fructose which stops the body from absorbing simple sugars which helps regulate blood sugar levels. Yacon extract is also believed to help with appetite control as it helps to keep you feeling fuller for longer. The 50% fructooligosaccharides is what was found in clinical studies to produce weight loss results; a lower percentage than this will not be effective. The only other ingredient found in this product is the veggie capsule.
Instructions
It is recommended to take two capsules a day. You should take one capsule, twice a day, 30 minutes before a meal with a full glass of water.
Cost
Research Verified sells their products online both from their website and from Amazon. Their website is secured by Norton so you don't have to worry about identity theft and fraud. One bottle of Research Verified Yacon Extract contains 60 capsules which is a month's supply. One bottle will cost you $48. There is also the option to buy multi-bottle packages and save some money. You can buy a package containing three bottles for $120 and a package containing six bottles for $198.
Possible Side Effects
There are no mentioned side effects with this product. However, it is only designed for adults. Pregnant and nursing women and those taking other medications should consult a doctor before taking this supplement.
Guarantee
Research Verified offers a 365-day money back guarantee with all of their products. This is an excellent testament to the faith they have in their products and the value they place in their customers. This is one of the best guarantees in the industry, allowing you to really try out the product with very little risk.
Research Verified Yacon Extract Review – The Bottom Line
We think this seems like a product worth trying out. It meets industry standards for quality and purity, and it also follows the formula and dosage that was found effective in clinical studies. What really puts our mind at ease is the 365-day money back guarantee, essentially allowing you to try out this product completely risk-free for a whole year.
Reviewed & delivered by our panel of experts at Reviewy.