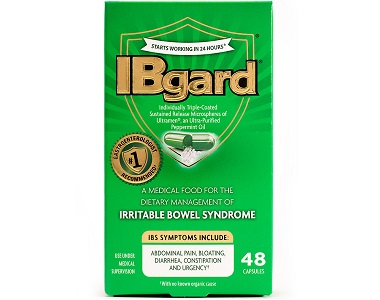 IBS
Updated May, 2022
---
IM HealthScience LLC IBgard Review
---
Manufacturer's Claim
This review focuses on the dietary supplement IBgard. It is claimed by the manufacturer that this product is helpful for managing the dietary needs of IBS. In more detail, this product is supposed to normalize both the digestion and absorption processes, which otherwise are negatively affected by IBS (Irritable Bowel Syndrome). This formula also treats the symptoms associated with IBS, including bloating, diarrhea, stomach pains, constipation, gas, a sense of an incomplete bowel movement, and pain at evacuation. Furthermore, this supplement claims to promote bacterial balance within the gut and small intestine. Lastly, the ingredients add both protein and fiber to the diet.
Formula
Ultra-purified peppermint oil – 90 mg
Other ingredients include microcrystalline cellulose, gelatin, methacrylic acid copolymer, hypromellose, methylcellulose, triethyl citrate, polysorbate 90, FD& C yellow #5 and FD&C green #3. Research studies have shown that peppermint oil is effective in treating the symptoms associated with IBS (from gas to stomach pain etc). It is believed that the ingredient within peppermint − menthol, can dull the pain receptors and help to relax the muscles in the colon. In addition, peppermint is a source of fiber which is useful if a person is constipated. Two capsules provide 640 mg of fiber, and 400 mg of amino acids.
Instructions
The manufacturers of this supplement suggest that this product be taken as directed by a doctor. However, they also mention that an adult can take 1 to 2 capsules up to three times daily, Each capsule should be taken 30 minutes prior to or after eating any food, although, taking it before a meal is more effective. No more than eight capsules daily must be taken. The capsules should be swallowed and not chewed.
Cost
This product is not available directly from the manufacturer. However, you can buy it from various third party sites, such as Walgreens, CVS Pharmacy, Target, Walmart or Amazon to name a few online stores. On Amazon, two different size packs are offered. A 48-capsule pack costs $22.03. A 2-package deal will cost $40.00 (for 96 capsules). No further package deals or discounts are offered.
Possible Side Effects
The manufacturer suggests that this product be used under medical supervision; the daily dose should not exceed 8 capsules. Too much peppermint oil can be toxic, leading to kidney failure. The manufacturer only mentions that this product could lead to a slight tingling sensation in the gut, and that gas might have the odor of peppermint.
Guarantee
There is no manufacturer's guarantee. This could mean that the product is not highly effective; or the lack thereof, is because the product is sold through third-party sites. Buying through Amazon, you are required to return any (unopened) product within 30 days of purchase.
IM HealthScience LLC IBgard Review – The Bottom Line
This product is made with an ingredient that is clinically endorsed as effective against IBS. This product is also widely available from an array of third-party sites. Negatives include the lack of a solid guarantee, that the capsules aren't vegan or vegetarian friendly as they contain gelatin, and there are no wide purchasing options with discounts. The product may therefore be pricey in the long run.
Reviewed & delivered by our panel of experts at Reviewy.