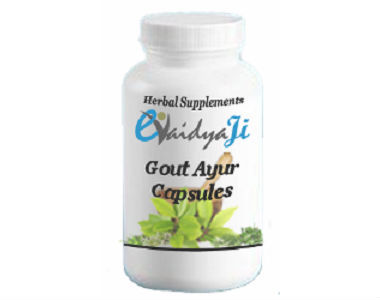 Gout
Updated February, 2023
---
Ayurvedic Medicine for Gout Review
---
This is a review of Ayurvedic Medicine kit for gout.  Gout is a type of arthritis that affects millions of people. It is cause by a uric acid accumulation up the blood and which then causes joint inflammation. There are two types of gout: acute and chronic. Acute gout is a painful condition that usually affects only one joint; Chronic gout is defined by repeat periods of pain and inflammation. With chronic gout often multiple joints are affected. The kit reviewed here contains Gout Ayur capsules, Detox herbal tea and Kaishore Guggulu. Gout Ayur capsules provides nourishment to the joints affected by gout and improve the function of muscles and joints. Detox herbal tea flushes toxins like uric acid out of the body and prevents their deposits. Kaishore Guggulu is a supplement that supports metabolism and reduces production of uric acid. We decided to conduct some independent research online.  Read on to learn more about this product and whether it is right for your situation.
Ingredients
Gout Ayur capsules contain:
Gorakhmundi (Sphaeranthus indicus) — this controls uric acid levels
Guduchi (Tinospora cordifolia) — this enhances immunity
Manjishtha — this is diuretic
Shunthi (Zinziber officinale) — this reduces pain
Shallaki (Boswellia Serrata) — anti-inflammatory, reduces joint swelling and pain and generally improves joint health
Ashwagandha — this improves immunity and has been shown to be helpful in arthritis and gout
Ajwain (Trachyspermum ammi) — this flushes out uric acid from the body
Detox herbal tea contains:
Pippali (Piper longum) — increases the liver's ability to remove toxins from the body
Dalchini (cinnamon) — keeps liver healthy
Amalaki (Indian gooseberry) — rich in vitamin C, high in anti-oxidants, also increases immunity
Haritaki (Terminalia chebula) — increases immune function
Haridra (turmeric) — increases immunity, relieves inflammation and pain, also reduces uric acid deposits
Maricha (Piper nigrum) — relieves pain, stimulates the digestive and excretory system
Manjishtha
Kaishore Guggulu contains:
Guduchi
Haritaki
Bibhitaki (Terminalia bellirica) — possibly helpful in removing toxins
Amalaki
Nishotha (Operculina turpethum) — enhances metabolism, keeps liver healthy, expels unwanted fluid from the body, also a good antioxidant
Vidanga (Embelia ribes) — keeps digestive tract healthy
Guggulu — detoxifies blood, prevents inflammation and gout
Dosage
The recommended dosage of Gout Ayur and Kaishore Guggulu is 2 capsules/tablets each twice a day with hot water. Two cups of detox herbal tea should also be consumed each day.
Price
A one month supply of the Ayurvedic medicine kit costs $35.95. A10% discount is available if a three month supply is ordered.
Guarantee
There is no money-back guarantee, but the products are made of all-natural products and do not contain any chemicals. They are manufactured in accordance with Good Manufacturing Practices (GMP) prescribed by FDA.
Conclusion Of Our Ayurvedic Medicine for Gout Review
While this is a good product containing herbal components, it is quite costly compared to alternate gout treatments. Furthermore, it is not FDA inspected and there are no signs of a valid guarantee anywhere.
Reviewed & delivered by our panel of experts at Reviewy.