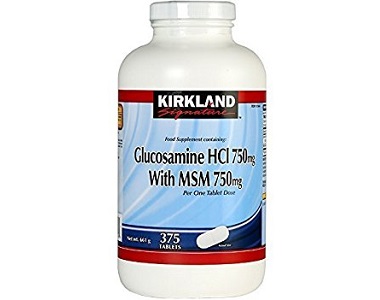 Joints
Updated September, 2023
---
Kirkland Signature Glucosamine Review
---
Manufacturer's Claims
This product claims to support flexibility as well as increase the range of joint motion by cushioning the joints and assisting with the promotion of healthy cartilage. There are many products that have the same claims and the goal of this review for Kirkland Signature Glucosamine is to provide you with the facts you need to know.
Formula
Glucosamine is an essential building block that is required for the healthy function and structure of joints, may assist with flexibility as well as mobility of the joints. MSM works with glucosamine to provide building blocks of collagen that are important for healthy joints and also connective tissue.
Instructions
The manufacturer advises that adults should take two tablets per day, or as a physician has instructed. It is suggested that individual results for this product may vary. It is advised that this product is stored at room temperature.
Possible Side Effects
It is advised that pregnant and lactating woman, as well as people using medications or have a medical condition, should consult a physician before using this product. However, there are no listed side effects. It is also suggested that you should keep this product away from children. This product also contains shellfish so it may not be suitable for people with allergens.
Cost
This product can be purchased online for $14.49 for a bottle containing 375 tablets. It states that this product is supplied by the manufacturer, and hosted by a third party. This product does not seem to have any discounts available although it does state that the estimated delivery time is unfortunately 3 – 5 business days.
Guarantee
This product does come with a money back guarantee, should you not be satisfied with the results after using the product, although research has not been able to establish whether or not there is a time limit on when you may return the product for a refund. This product does seem to have a few good customer reviews, although some reviews seem to recommend against the usage of this product. There are similar products available from leading brands that have great customer reviews to confirm the effectiveness of their products.
Kirkland Signature Glucosamine – The Bottom Line
Kirkland Signature Glucosamine is formulated with some good ingredients that may assist you with joint health. We like that this product does have a manufacturer's guarantee however, this product, unfortunately, does have some rather negative customer reviews which seem to speak against this product, however, there is a full money back guarantee should you not be happy with the results of this products. The product label does warn that the individual results may vary when using this product, therefore, it may not work for everyone. There are other similar products available that have great customer reviews, proving the effectiveness of the product for many different people. It may be a good idea to have a look around at other available products before choosing a supplement that will help with joint issues.
Reviewed & delivered by our panel of experts at Reviewy.