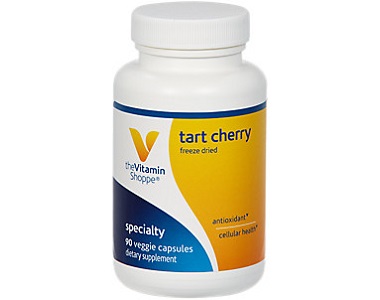 Gout
Updated January, 2021
---
The Vitamin Shoppe Tart Cherry Extract Review
---
Manufacturer's Claims
Today we review a gout remedy called Tart Cherry Extract. Gout is caused by a spike in uric acid in the blood. Uric acid builds up when the body has to break down purines. Purines occur  naturally in the body. They are also found in foods such as red meat, grains, sugary beverages, certain seafoods, grains and alcoholic beverages. To beat gout, you must reduce uric acid levels by cutting out purines and/or through a uric acid neutralizer such as black cherry
High uric acids levels cause crystals to form and accumulate in and around a joint. This is what causes the debilitating inflammation and pain. The crystals are usually broken down by the kidneys so they can leave the body as urine. Studies have shown that black cherry reduces inflammation and uric acid levels in the body.
If you're a gout sufferer, you'll know the extreme agony and lack of mobility this can cause in joints such as the toes, knees and wrists. The manufacturer has formulated these capsules as a joint health product that supports a healthy inflammation response and provides antioxidant support.
Formula
Cherrypure Freeze Dried Tart Cherry (Prunus Cerasus) Skin Concentrate – 1500 mg
This is a good concentration of tart cherry, which should provide relief thanks to the antioxidant and antiinflammatory properties. This means uric acid should be flushed out and the crystals from purine broken down so the kidneys can expel what has effectively become toxins quickly and easily.
Instructions
Take three (3) capsules per day, preferably with meals. Consult your doctor if you are pregnant or breastfeeding. Do the same if you have a medical condition or are taking medication for anything. Keep out of reach of children.
Cost
A bottle of 90 capsules retails for $16.99 on Amazon. This is a 3-month supply. The extra-strength 120 capsule bottle sells for $18.99. You'll get 10$ off if you subscribe to the shipping option on the manufacturer website.
Possible Side Effects
The product is free from gluten, as well as animal derivatives, artificial colors, fish, salt, soy, preservatives, dairy, sugar, wheat and yeast. It is vegetarian friendly. However the product does contain magnesium stearate which we mention as it can induce headaches in some people.
Guarantee
You can return opened or unopened merchandise within 30 days but the form of the refund will differ depending on whether you produce a receipt or not. If you have a receipt, a full refund applies. If not, you'll get a credit for the lowest-priced merchandise during the preceding 30-day period.
The Vitamin Shoppe Tart Cherry Extract – The Bottom Line
The product has mostly good reviews on the product website but independent consumer reviews elsewhere are strangely missing. It is therefore difficult to get an objective idea of how fast or effective a gout remedy this is in reality. However, the dosage contained is high enough to make a good impact, especially if you take this over the long term.
You still have to control your diet and omit purines – this is not a cure-all supplement. It is lacking certain other antioxidants and anti inflammatories that could also have been included. The most potent formulations are more well-rounded and also include the likes of turmeric, milk thistle, dandelion and folic acid. This would help the swelling and pain decrease in the short term and also actively counter uric acid build up over the long term, by ensuring that it is constantly processed and flushed out along with other toxins in the body.
Reviewed & delivered by our panel of experts at Reviewy.