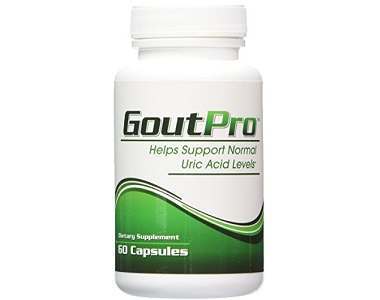 Gout
Updated November, 2023
---
GoutPro Review
---
Manufacturer's Claim
GoutPro is a nutritional supplement, created from just a few natural ingredients, which is intended to help the body maintain the right amount of uric acid. GoutPro's simple formula of herb and plant extracts – designed by nature – is said, by the manufacturer, to reduce inflammation of the joints, and support kidney and liver health. Read our full review below to find out if GoutPro is the right product for you.
Formula
The GoutPro label shows that it contains 500 mg of "Herbal Blend". The components of the "Herbal Blend" are listed, but the exact amounts of each component is not disclosed.
Herbal Blend Contains:
Yucca Stalk
Aged Garlic
Artichoke Powder
Milk Thistle (Silymarin) extract 80%
Other ingredients:
Yucca stalk and artichoke are two natural foods that are known to help reduce uric acid and the pain it causes in joints. Garlic has been acknowledged to help strengthen the immune system while milk thistle has been claimed to help liver and kidney functions. Turmeric (curcumin) is said to reduce joint inflammation.
Instructions
Dosage instructions are not clearly presented on the bottle or the manufacturer's website. However they do state that a bottle of 60 capsules is equal to a one month's supply, implying that one should take two capsules per day. When they should be taken, and whether with or without food is not specified. It is always best to consult with your doctor prior to taking this or any supplement.
Cost
On the GoutPro website, at the time of our review, you could purchase a bottle of GoutPro containing 60 capsules for $24.97. You could also buy a package of three 60-count bottles $74.97 (six cents more expensive than if you were to purchase three separate single bottles). Finally a package of six bottles of GoutPro could be bought for $147.00, a savings of $2.82 over buying 6 single bottles, which is not much of a deal. But they do offer free shipping no matter how many bottles you buy.
Guarantee
In big red letters GoutPro claims offers %100 satisfaction guaranteed and a no questions asked return policy. But when searching for the specifics of what that entails, it is not listed on their website, nor the PayPal site used to purchase the product.
GoutPro Review – The Bottom Line
Made up of only five ingredients, all of which can be easily identified, GoutPro might be a good option for someone looking for an all-natural way to deal with gout problems. If it really only takes these two capsules a day to prevent those uric acid flare-ups it would be quite exciting to those of us who know how painful it can be. And, at the time of writing, GoutPro had close to 400 customer reviews with 77% positive and 14% negative, a good ratio.
However, we do have some concerns. The amount of each ingredient in every capsule is not listed, and there is no stated recommended dosage. The bulk pricing is also not notably discounted (purchasing the three bottle package is actually a drop more expensive than three single bottles). Finally, although there is apparently a 100% money-back guarantee, there are no details provided on how it works (can you return opened bottles?) or how long it is in effect after purchase.
For those who have tried everything else out there on the market, GoutPro might seem like a good solution. But the uncertainty of the formula, and the lack of detail in backing up their own product makes GoutPro a question mark for us.
Reviewed & delivered by our panel of experts at Reviewy.