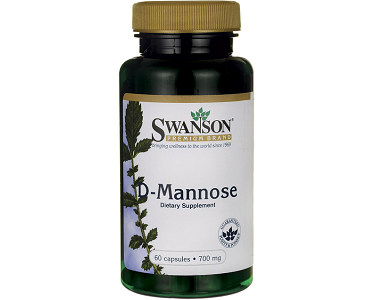 UTI
Updated May, 2022
---
Swanson D-Mannose Review
---
Manufacturer's Claim
This is a product review of Swanson D-Mannose. This product claims to nourish the healthy flora that colonizes the membranes of the urinary tract. It also claims to support urinary tract health.
Formula
This supplement contains 700 mg D-Mannose. D-Mannose is a simple sugar found in many fruits. It is related to glucose. If you are not familiar with this term, other names for D-Mannose are Carubinose, D-Manosa, Mannose and Seminose.  Other inactive ingredients included in this specific supplement are gelatin and it may contain one or more of the following: microcrystalline cellulose (plant fiber), silica and magnesium stearate. Should you suffer from a UTI, you may suffer from burning during urination, frequent urges to urinate, lower abdominal pain or aching, and possibly (but not always) blood in the urine as well as cloudy urine.
Instructions
Use as a dietary supplement. One capsule is to be taken two times per day with water. For maximum benefit, it is stated to take two capsules two times per day. This recommended dosage seems like the average recommended dose usually given for the taking of such a supplement. Just keep in mind not to drink your first dose of D-Mannose with too much water as it dilutes the concentration of D-Mannose in the bladder. Remember to take the dose with no more than half a glass of water, wait 45 minutes to an hour, then proceed to drink lots of water.
Cost
The cost is quite reasonable at $12.99 per bottle containing 60 capsules of 700 mg each. It saves you 28% according to their website. The company also offers 10% off plus 99c shipping on $20 plus orders purchased online. The company also offers free standard shipping on orders over $50 with easy refill plus 10% off future orders. Its shipping weight is 17 lbs.
Possible Side Effects
Swanson D-Mannose is not to be taken when pregnant or breastfeeding as there has not been enough studies on its safety during these circumstances. Side effects may include bloating and loose stools. These supplements should also be used with caution if you have diabetes as it may make it harder to control your blood sugar. Taking very high doses of D-Mannose may also cause kidney damage. Let your doctor know if you are taking this supplement.
Guarantee
Swanson mentions that if for any reason you are dissatisfied with the product, they will give you a full refund and pay return shipping within 12 months. To get a refund, you have to return the unused portion of the product.
Swanson D-Mannose Review – The Bottom Line
There are certain things that are very appealing about Swanson D-Mannose. It has a great low cost with certain benefits if more than just one bottle is purchased and it has many good customer reviews which are great. However, there is also not enough information stated on the product on the possible side effects of too much intake of such a product. Cranberry is another ingredient that is beneficial for urinary tract health, which this supplement does not provide but others do. There are other products available on the market that give you more for your money.
Reviewed & delivered by our panel of experts at Reviewy.