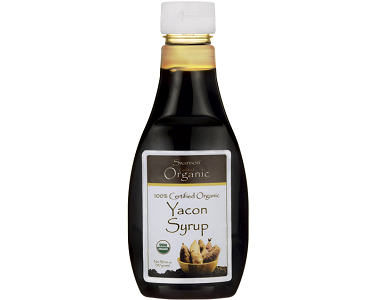 Yacon
Updated November, 2022
---
Swanson Organic Yacon Syrup Review
---
Manufacturer's Claim
Anyone who has ever dieted knows the struggle of trying to keep your sweet tooth satisfied and the calories down without compromising taste. This review examines Swanson's Organic Yacon Syrup which promises to do just that. With only 5 calories per serving, Yacon Syrup has more than five times less sugar than its competitors; sugar, honey, and molasses. The secret to Yacon's Syrup is that it derives its sweetness from fructooligosaccharides (FOS), which is a type of sugar molecule that stimulates taste buds, almost exactly like regular white sugar, but passes through the digestive tract unmetabolized which results in a reduced caloric value. Instead of tacking on calories, FOS nourishes the beneficial probiotic bacteria that resides in the gastrointestinal tract. The syrup is obtained from organically grown Peruvian yacon root that does not involve any chemicals throughout the extraction process so Swanson Organic Yacon Syrup can proudly say that they are 100% pure without any additives, preservatives or artificial ingredients.
Formula
The only ingredient found in this product is 100% Certified Organic Yacon Root (Smallanthus sonchifolius) syrup. The manufacturer does not indicate the amount of FOS the product contains.
Instructions
Yacon Syrup recommends taking one teaspoon (7 grams) as desired in place of honey, molasses, and other sweeteners.
They pride themselves the syrup's versatility and claim it can be mixed in anything from yogurt to smoothies to cereals. However, the no limitation on the amount you can take a day may lead to unnecessary side effects.
Cost
One 14 oz. bottle of Swanson's Organic Yacon Syrup is listed on Swanson's website at the reduced price of $21.99 but it states in a disclaimer that prices are subject to change and may be raised back to its regular price of $29.99. Although this did not concern us because it appears to be a marketing hoax to get the consumer to make a rushed purchase.
Possible Side Effects
There are no potential side effects listed on their website and in our research, we were not able to find elsewhere.  However, we were also unable to find any third-party testing listed on their website or elsewhere so there is no way to know if this product is research verified.
Guarantee
If you are unsatisfied for any reason, Swanson offers a twelve-month money back guarantee. You need to return the unused portion of the product as well as a detailed explanation for the return.
Swanson Organic Yacon Syrup Review – The Bottom Line
We are impressed by Swanson Yacon Syrup's 100% all natural product and that they provide a good money back guarantee. However, we were concerned about the integrity of this product because the information provided on the website about its benefits was unclear and the website was hard to navigate. Swanson was very clear about Yacon Syrup serving as a replacement for other sweeteners and having low calories per serving but when reviewing its website we were unable to get a clear sense of what other benefits if any, the syrup provides. They have also not mentioned an upper limit of how much to consume a day which may result in side effects. They market their versatility well but when offered more information it briefly mentions it may be beneficial to boosting metabolism and regulate the gastrointestinal tract and briefly mentions studies but does not back up these claims with real research so we do not know what we can take for a fact and what is merely a marketing strategy.
Reviewed & delivered by our panel of experts at Reviewy.