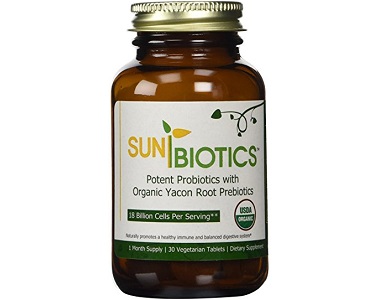 Yacon
Updated November, 2023
---
Sunbiotics Potent Probiotics with Organic Yacon Root Prebiotics Review
---
Manufacturer's Claim
Although bacteria is usually associated with being harmful to the body, there are good types of bacteria that offer health benefits and are beneficial for you. Probiotics are a type of good bacteria that help keep your gut working optimally. Probiotics are also believed to have benefits for certain skin conditions, oral health and urinary and vaginal health. This review is going to examine Sunbiotics Potent Probiotics with Organic Yacon Root Prebiotics. This product combines a synergistic blend of four probiotics with Organic Yacon Powder which acts as a prebiotic in your digestive tract that helps stimulate the growth and activity of beneficial bacteria.
Formula
Prebiotic Blend (Organic Raw Yacon Root Powder) – 250 mg
Probiotic Blend (Lactobacillus acidophilus, Bifidobacterium bifidum, Bifidobacterium lactis, Bifidobacterium longum) – 50 mg
Other Ingredients: Organic Coconut Sugar, Organic Vanilla Flavor, Silica
This product contains four of the most potent probiotics. Lactobacillus works by breaking down nutrients for the body to use and creates byproducts such as lactic acid and hydrogen peroxide which create a hostile environment to certain organisms that are harmful to you. The Bifidobacterium bifidum functions by aiding the synthesis of B-complex vitamins and vitamin K in the intestines and also promotes bacterial balance and optimal digestion. Bifidobacterium Lactis works by fighting off damage caused by bad bacteria and helps aid in digestion. Bifidobacterium longum helps maintain a normal digestive tract, stops the growth of harmful bacteria and boosts the immune system.
Yacon Root has a high fructooligosaccharides content that acts as a prebiotic in your digestive tract.
Instructions
Sunbiotics recommends chewing or swallowing one tablet daily, with or without food.
Cost
This product is exclusively available for purchase through third-party retailers. We were able to find one 30 veggie tab bottle online for $5.68. The manufacturer does not offer any bulk packaging discounts or packages.
Possible Side Effects
Sunbiotics does not stipulate any possible side effects. Some mild side effects can include bloating, gas diarrhea and nausea.
Guarantee
The manufacturer does not offer any money-back or satisfaction guarantees. Any guarantee will be subject to the terms and conditions of the third-party retailer you buy from.
Sunbiotics Potent Probiotics with Organic Yacon Root Prebiotics Review – The Bottom Line
This product appears to be decent. It is unique in the way that it combines four of the most beneficial probiotics with Yacon Root to achieve optimal digestive and urinary tract health. However, in our research of this product, we came across a multitude of consumer complaints claiming that they felt no difference after taking this supplement for an extended amount of time. The manufacturer does not offer a money-back guarantee which suggests that they too are not confident in the effectivity of their product. Probiotics are a supplement that can be taken over the course of a lifetime but the manufacturer also does not offer any bulk purchasing packages or discounts. It is a nice idea to synergize Yacon Root with Probiotics but taking into account the negative consumer reviews and the lack of a manufacturer's guarantee, this product is too risky.
Reviewed & delivered by our panel of experts at Reviewy.