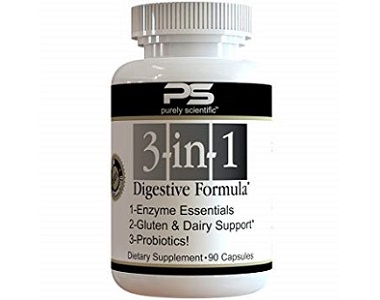 IBS
Updated September, 2023
---
Purely Scientific 3-in-1 Digestive Formula Review
---
Manufacturer's Claim
This is a review of Purely Scientific 3-in-1 Digestive Formula, a product that is claimed to support irritable bowel syndrome (IBS). The manufacturer, Purely Scientific, claims that this product has a medical-grade formula that can support a wide range of digestive issues such as gas, leaky gut, as well as gluten and lactose intolerance. By the end of this review, you will have all the facts to support a wise customer purchase as we investigate if this product is the best IBS solution available on the market.
Formula
Professional Digestive Enzyme Blend – 172mg
BioCore DPP IV-I – 40mg
Professional Probiotic Blend – 25mg
Fructo-oligosaccharides – 75mg
This formula is made is of 3 components. Professional Digestive Enzyme Blend, which is a combination of essential enzymes like amylase, protease, lactase, and lipase. These enzymes all support the breakdown and digestion of food groups in the gut. Next, there is BioCore; a patented lactose and gluten intolerance support made up of variations of protease to break down stubborn proteins. Finally, there is a probiotic blend of lactobacillus and streptococcus strains of bacteria that support digestion. This 3-in-1 formula is complemented by Fructo-oligosaccharides; a prebiotic to feed the probiotics in the gut and maintain their health. While these ingredients may be beneficial in supporting IBS, the formula is lacking soothing and anti-inflammatory ingredients such as turmeric or ginger root. This may prevent the product from offering immediate relief from the pain often associated with IBS and so, may prevent this product from being a total care solution. What is positive to note is that this formula was triple tested and the product was manufactured in a GMP certified facility.
Instructions
As a dietary supplement, 1 serving equals 1 capsule. The capsules offer easy-to-open design to allow crafting an exact dosage. However, It is unfortunate to note that the manufacturer does not offer any instructions on how to take this product for effective results. This is concerning as the lack of communication may lead to overdosing, which in turn, could increase costs and have health and safety implications. Per serving, there appears to be an adequate amount of the key active ingredients per capsule. The manufacturer states that this product is perfectly suited for all ages of people with digestive issues, from adults to teens to children with autism.
Cost
This product is currently unavailable on third-party sites such as Amazon, as it is out of stock. We are not sure when, or if, the product will become available again. Furthermore, we are not sure if discounts or package offers are provided for added affordability.
Guarantee
Purely Scientific states that there is a 100% money-back guarantee available for this product, however, regrets to make the exact terms of the return policy available on their website. This is highly concerning as the manufacturer may resort to loopholes that prevent customers from receiving a refund, especially if they tested their product. Furthermore, customers have no idea what the duration of the policy is or if there is a restocking fee. What is more concerning, we found many customer reviews that complained that this product was ineffective in relieving symptoms of IBS or worse, experienced negative side effects. These included bloating, upset stomach, intestinal pain, and headaches to name a few.
Purely Scientific 3-in-1 Digestive Formula Review – The Bottom Line
Purely Scientific 3-in-1 Digestive Formula is a triple action formula that contains many ingredients known to support effective digestion and thus relieve some symptoms associated with IBS. While the product was produced in a GMP certified facility; the formula is missing key soothing and anti-inflammatory ingredients that would offer immediate relief. Whatsmore, the manufacturer offers no clear usage instructions or a clear and detailed guarantee. This, combined with the poor customer reviews and negative side effects experienced, supports our notion to not recommend this product.
Reviewed & delivered by our panel of experts at Reviewy.