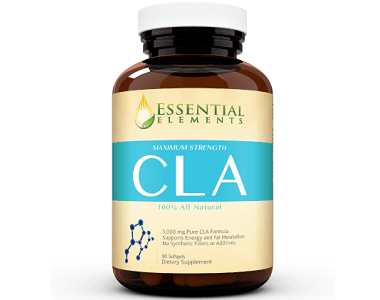 CLA
Updated August, 2022
---
Essential Elements Maximum Strength CLA Review
---
Manufacturer's Claim
In writing this Essential Elements Maximum Strength CLA review, we learned that this product is advertised as being one of the best options for losing weight or simply boosting your metabolism. It also claims to help with toning your body. However, is it really different from other supplements on the market? And does it really work?
Formula
The only ingredient found in this product is, according to the manufacturer, 3000mg of Conjugated Linoleic Acid, also known as CLA. However, the product label says that the product contains both 2400mg and 3000mg. CLA is an ingredient that has been shown to help burn fat, shape your body, and speed up a slow metabolism. For those who are looking for a safe, natural substance to help them in these areas, this ingredient is a key place to start. Other ingredients are gelatin (bovine), purified water, and glycerin. The manufacturer's website, however, states that the product does not contain any gelatin or glycerin, so this is confusing.
Instructions
When taking this product, you should make sure to follow all of the instructions very carefully, as you would with any health supplement or medication. If you have any questions, you should speak to a medical professional first. That said, it is recommended for adults to take three softgel capsules per day. The best time for this would be before mealtimes and with an 8-ounce glass of water.
Cost
One bottle of Essential Elements Maximum Strength CLA is $49.95; this will get you a 30 day supply of this supplement. However, there are ways that you can cut back on the cost. For example, there are two other ordering options that allow you to save by buying in bulk. If you purchase three bottles, which is a three-month supply of this supplement, you will only pay $139.95. You will also receive free shipping. For even more savings, purchase a six-month supply for $224.95, and you will also receive free shipping.
Possible Side Effects
It appears that there are no side effects associated with taking Essential Elements Maximum Strength CLA. However, like with any other health supplement, you should not exceed the maximum dosage listed on the bottle; only deviate if you are told to do so by your doctor. If you have any questions, it is a good idea to speak to a medical professional.
Guarantee
This product does come with a money-back guarantee, and it is one of the most relaxed ones that you can find, especially when it comes to health supplements. In this case, you can return products within one full calendar year (365 days) and receive a full refund for your purchase. This is great for those who aren't sure if they want it long-term.
Essential Elements Maximum Strength CLA Review – The Bottom Line
This review of Essential Elements Maximum Strength CLA has shown us a few truths. The first is that this seems to be a good product. It has an excellent money-back guarantee, as well as it containing only natural ingredients. However, we find it a bit concerning that the product website says one thing about the ingredients of the product and the product label says another. It makes it very difficult to trust what the manufacturer is saying. We think there are better CLA products on the market without conflicting information.
Reviewed & delivered by our panel of experts at Reviewy.