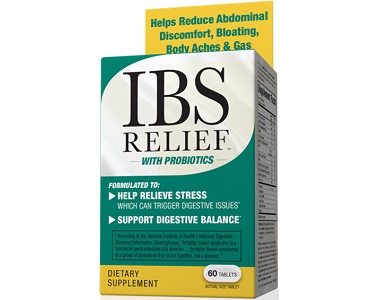 IBS
Updated April, 2023
---
The Carter-Reed Company IBS Relief With Probiotics Review
---
Manufacturer's Claim
The supplement aims to relieve stress, which can trigger digestive problems. This product can also support digestive balance, relieve stomach pains, bloating, reduce gas, and help prevent constipation and body aches − all symptoms associated with Irritable Bowel Syndrome (IBS). What is to follow is a full review of these claims and the product called IBS Relief With Probiotics.
Formula
Stress Relief Complex (L-theanine, melon fruit juice concentrate (cucumis melo), Cinnamon bark extract, Celery seed powder, Gaba (gamma aminobutyric acid), and L-glutamine) – 210.04 mg
Digestive balance complex (bacillus coagulans, ginger root powder, papaya fruit powder and turmeric root powder) – 20.03 mg
Brain/gut Complex  (melatonin and lemon balm (aerial parts) powder – 3.02 mg
Other ingredients are microcrystalline cellulose, hydroxypropyl methylcellulose (vegetable capsule), stearic acid (vegetable derived), magnesium stearate (vegetable derived), purified water, and titanium dioxide (natural mineral whitener). Bacillus coagulans supports digestive health by restoring the balance; unlike other probiotics, it can survive in the acid environment of the stomach. The inclusion of titanium dioxide is problematic, as this substance has been linked to cancers and other health problems.
Instructions
The instruction, according to the manufacturer, is to take one (1) capsule every night before bed, with a glass of water. There is a warning not to exceed the dose.
Cost
A 30-capsules bottle (equal to a month's supply) is available, not directly from the manufacturer, but through third-party sites such as Amazon, where the purchase price is $21.93. No discounts are offered.
Possible Side Effects
This product is not to be used by anyone below the age of 18 years, pregnant women or nursing mothers, nor by those people with a digestive disease, fever, vomiting, bloody diarrhea, experiencing weight loss, or inflammatory bowel disease such as Crohn's disease. As each capsule contains at least 3 mg of melatonin, this product should only be used before bedtime as it could induce drowsiness. Thus it should not be taken before driving, or working on heavy machines. Nor should this supplement be taken with alcohol or other sedative drugs. Those on any prescription medication should first consult a doctor before taking this supplement.
Guarantee
The manufacturer offers a 30-day money-back guarantee on this product. If dissatisfied with the results, a refund minus the shipping and handling fees is offered. Empty bottles may also be returned. However, a 30-day limit gives the buyer little time to try the product, most similar  products taking up to two weeks to show results.
The Carter-Reed Company IBS Relief With Probiotics Review – The Bottom Line
IBS Relief With Probiotics comes with a 30-day money back guarantee. One capsule per day, only, is recommended, unlike others that suggest up to three capsules daily. Turning from the good aspects to the bad, however, there is a warning to those who should not take this supplement, this according to the manufacturers themselves. These exclusions target many people who would benefit by such a supplement. The product is said to heal digestive problems, however, conversely, those with digestive problems should not take it. This product does not offer any discounts. It must also only be used at night. Students who studying till late at night, or people on night shift will be excluded.
Reviewed & delivered by our panel of experts at Reviewy.