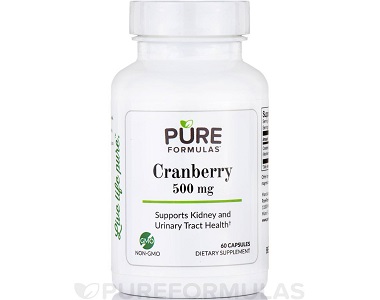 UTI
Updated June, 2023
---
PureFormulas Cranberry Review
---
Manufacturer's Claim
Read our review about PureFormulas Cranberry 500mg. This product claims to support kidney and urinary tract health. Cranberries have lots of vitamin C and other antioxidant properties which are great health benefits.
Formula
This product includes 500 mg of cranberry concentrate (Vaccinium macrocarpon). Cranberry has been used for preventing bladder and urinary tract infections (UTIs). It also decreases the smell associated with people who suffer from incontinence. This product also contains rice flour, gelatin as well as magnesium stearate as inactive ingredients. The product contains no yeast, wheat, gluten, soy protein, corn, milk/dairy, artificial coloring, preservatives or flavoring. This specific formula is produced in a facility that produces products that contain soy, dairy, peanuts, fish and crustacean shellfish. There are 60 capsules per bottle.
Instructions
The manufacturer recommends you to use this product as a dietary supplement by taking 1 capsule daily or as directed by your healthcare professional. This dosage seems low compared to other cranberry supplement recommendations.
Cost
The cost is a very cheap $9.63 per bottle plus $2.99 which is removed if you buy with any other item. The manufacturer's offer a same-day shipping option as well as many other shipping options that vary in price up to $24.99 for UPS next day shipping. Their plus-one items are shipped free when combined with this product. You can also save 10% if you buy three bottles.
Possible Side Effects
Cranberries should not be used alone to treat bladder and urinary tract infections. There is the possibility that it may not work and the delay may cause the infection to worsen. Too much cranberry in the system can cause kidney stones even though they do eliminate certain types of other ones. You should be very careful with this product if you are taking medication for blood thinning. There is also a chance that if you are allergic to aspirin you may be allergic to cranberries.
Guarantee
You will receive a 100% refund but it has to be requested within 30 days of receipt of your item. Also, your item needs to be unopened. It fully states that opened returned products will be discarded and no refund or credit will be issued. Most refunds from this company are given back within 3-5 business days. If any products arrive damaged, you may also need to provide a picture of the damage for proof to help in the processing of your claim.
PureFormulas Cranberry Review – The Bottom Line
The fact that this company ships to so many places around the world including Europe, Australia, and New Zealand, and Britain is fantastic. Also, the price is very appealing. However, the fact that they offer only a 30-day return policy is concerning and what's even more bothersome is the fact that they do not offer any returns on any open product. One then has to question the integrity of the company itself and the belief in their own product. For this reason, we would be highly skeptical regarding the purchasing of this product. There are also other products available that contain more ingredients which may be more useful.
Reviewed & delivered by our panel of experts at Reviewy.