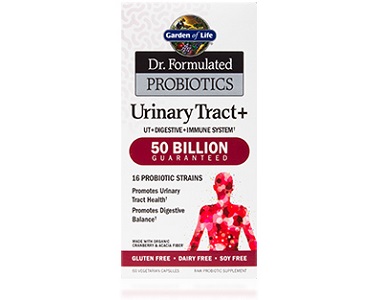 UTI
Updated January, 2022
---
Dr. Formulated Probiotics Urinary Tract Review
---
Manufacturer's Claim
Probiotics are generally taken as a way to maintain optimal urinary tract health and as a way to avoid and prevent urinary tract infections. They are loaded with good bacteria that are good for your general health and digestive system.This review will examine Dr. Formulated Probiotics Urinary Tract + made by Garden of Life that was created by a board-certified neurologist who is also an expert in the human microbiome. This product claims to promote urinary tract health, deliver digestive and immune system support, provide 50 billion CFU probiotic strains, 500 mg of organic Pacran Cranberry and 1,000 IU of vitamin D3. They also claim to promote digestive balance by providing a balance of good bacteria.
Formula
Women's Probiotic Blend (Lactobacillus plantarum, Lactobacillus acidophilus, Lactobacillus paracasei, Lactobacillus rhamnosus, Lactobacillus gasseri, Lactobacillus casei, Lactobacillus acidophilus NCFM, Lactobacillus  reuteri, Lactobacillus brevis, Lactobacillus bulgaricus, Lactobacillus salivarius) – 164 mg
Organic Pacran Whole Cranberry (fruit) – 500 mg
Organic Prebiotic Fiber Blend – 439 mg
Inactive Ingredients: Non-GMO Vegetable Pullulan (capsule).
The L. reuteri, Lactobacillus acidophilus and Bifidobacteria are known to provide digestive health and constipation relief. Cranberry contains anti-adhesion properties within the antioxidants that prevent bad bacteria from sticking to the bladder.
Instructions
Dr. Formulated Probiotics Urinary Tract + recommends taking 2 capsules daily, with or without food. You can also open the capsule and mix the contents with water.
Pregnant and nursing women or women who are under medical supervision or taking medication should consult with their doctor before use.
Cost
You can purchase this product on the manufacturer's website as well as through third-party resellers. Dr. Formulated Probiotics Urinary Tract + is listed on Garden of Life's website for $35.96 per 60 capsule bottle.
Possible Side Effects
Garden of Life does not cite any possible side effects. Common side effects associated with taking a probiotic are gas and bloating.
Guarantee
Garden of Life does not offer a money back guarantee.
Dr. Formulated Probiotics Urinary Tract Review – The Bottom Line
Dr. Formulated Probiotics Urinary Tract + appears to be a viable option in the multitude of urinary tract probiotic options available on the market today. Their website is colorful and easy to navigate although it contains limited information about what this product does and how it works. We found the focus of the information provided to be primarily about the doctor who created the product rather than the product itself. There is not enough information to make an informed decision about whether or not to invest in this probiotic and rely on it to provide optimal urinary tract health. Relative to other similar products on the market, the price for this probiotic is comparatively high especially considering that they do not offer a money back guarantee. When conducting research on Dr. Formulated Probiotics Urinary Tract + we found reports of consumers experiencing adverse side effects like severe abdominal pain and outbreaks of acne. Others have claimed they have taken the recommended daily dosage for an extended amount of time and still experience recurring UTIs. This with the combination that Garden of Life does not offer a money back guarantee suggests a lack of confidence in their product and makes us question if it can really offer any sort of relief or any sort of benefits.
Reviewed & delivered by our panel of experts at Reviewy.