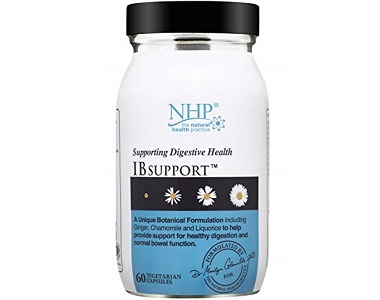 IBS
Updated November, 2023
---
NHP IB Support Review
---
Manufacturer's Claim
In the following review, we examine the product NHP IB Support. The manufacturer claims that this ground-breaking supplement is designed to maintain digestive health and promote wellbeing. They argue that is is a beneficial and unique botanical formula that relieves symptoms associated with Irritable Bowel Syndrome (IBS). We have assessed the accuracy of these claims to help you make an informed consumer decision.
Formula
Peppermint Oil (freeze-dried) – 200mg
Marshmallow Root – 170mg
Slippery Elm Bark – 120mg
Turmeric Powder – 100mg
Ginger Root – 80mg
Fennel – 80mg
Chamomile Herb – 60mg
Licorice Root – 60mg
Artichoke Leaf – 20mg
The aforementioned formula contains a list of all-natural ingredients. These ingredients have a number of positive properties and work to combat symptoms of IBS. Peppermint Oil, Marshmallow Root, and Slippery Elm Bark are all known to soothe the intestinal tract and provide relief from pain. Ginger works to relax the body while Chamomile may calm the abdominal area. These natural ingredients can provide effective relief from uncomfortable symptoms. Artichoke, Fennel, Turmeric, and Licorice support the digestive system and work to balance bacteria in the gut. Many of these ingredients are found in other brand's products. That said, these brands often contain additional probiotics to improve product effectiveness. Good bacteria such as L. Acidophilus and L. Rhamnosus should be considered when looking for an optimal IBS support supplement. The quality of this product is supported by Dr. Marilyn Glenville's Seal of Approval. This seal of approval ensures that the product has met various criteria pertaining to ethical business practices and quality formulation. That said, it is not a popular and authoritative certification. The fact that the manufacturer does not indicate if this product is cGMP certified is extremely worrisome.
Instructions
Users should consume one (1) to two (2) capsules daily, thirty (30) minutes before food with a glass of water. This dosage supplies sufficient quantities of the key ingredients. That said, it lacks additional ingredients which would ensure efficacy. This factor may render the dosage inferior to competitor products on the market.
Cost
The product can be purchased online. NHP stocks the product for $32.20. This is an expensive price to pay for a one month supply of IBS support. The fact that there are no additional discounts or bulk-buy deals is a concern as prolonged use could become too costly.
Possible Side Effects
That manufacturer states that individuals who are pregnant or breastfeeding should not consume this product. Parents are warned to keep the supplement out of children's reach. Individual reaction to the product may vary and allergens to the formula can induce unwanted side effects such as nausea, pain, and bloating. Furthermore, long-term use of Peppermint Oil may impact kidney health. We recommend discontinuing use if you experience any of the aforementioned side effects.
Guarantee
The manufacturer states that they will accept returns of unopened products within 14 days of purchase. This return policy is extremely short and does not cater to individuals who are not satisfied with the product. The lack of guarantee suggests that they are not entirely confident in the product efficacy. This is a major concern. We were unable to find reviews to vouch for the effectiveness of the product. This makes it difficult to recommend it as an ideal product choice.
NHP IB Support Review – The Bottom Line
NHP IB Support contains all-natural ingredients that are known to support healthy digestion. We are pleased to note that the dosage is adequate. These factors considered, it is unfortunate that the manufacturing procedures are not supported by a cGMP certification. The product is also significantly pricier than alternatives on the market. Another major concern is that there is no guarantee to cover customers who are unhappy with results. Finally, the lack of customer reviews means that we cannot assure this product will deliver results. Therefore, we do not recommend this IBS support.
Reviewed & delivered by our panel of experts at Reviewy.