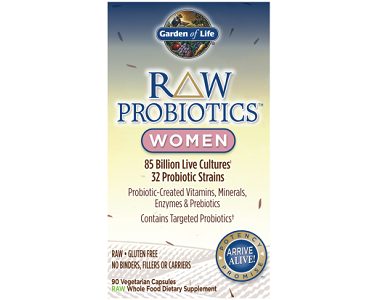 IBS
Updated August, 2022
---
Garden of Life Raw Probiotics Women Review
---
Manufacturer's Claim
IBS is a major scourge of our time – it is estimated to affect about 24% of women and 20% of men in the US. While anxiety and obesity can play a role, diet is the biggest factor in causing flare-ups. This is usually due to incomplete or partial digestion of food in the digestive tract, which could be lacking enzymes or missing the good bacteria required to break down the food. This review looks at a probiotic for women that can help with IBS symptoms, a large intestine disorder. It is called Raw Probiotics Women, as it also contains probiotics than help women fight urinary tract infections, among other ailments.
IBS is a large intestine disorder. Often sufferers experience pain, bloating, excess gas, mucus in the stool, diarrhea, constipation or both.
Raw Probiotics Women contains acidophilus and bifidobacteria-created vitamins, minerals, prebiotics and enzymes. Included are 85 billion CFU and 33 probiotic strains that boost the  immune system. It also promotes bowel regularity, proper digestion and enhances the ability of the digestive tract to absorb nutrients. This is thanks to the probiotics Garden of Life specifically refrigerates at -10F to keep them live. It is then shipped with a cold pack so the live cultures are preserved. Consequently, you should be able to reap greater benefits as you will be ingesting live cultures which can set to work immediately.
Formula
Vitamin C – 24 mg
Thiamin – 1 mg
Vitamin D – 500 IU
Riboflavin – 1.13 mg
Vitamin E – 12 IU
Vitamin B6 – 1.33 mg
Folate – 133 mcg
Vitamin B1 – 1 mg
Vitamin B12 – 10 mcg
Pantothenic Acid – 1.92 mg
Calcium – 30 mg
Iodine – 50 mcg
Magnesium – 8.4 mg
Selenium – 23 mcg
Copper – 0.18 mg
Manganese – 0.67 mg
Chromium – 40 mcg
Molybdenum – 19.5 mcg
Raw Whole Food probiotic blend (lactobacillus and bifidobacteria-based)
Eastern European Wilde Kefir Culture
At 85 million, this product contains one of the highest concentrations of probiotics, although there are a few products that contain slightly more. It is a thorough combination of probiotics which is essential to long-term gut health. The dairy-digesting enzymes help break down lactose and casein to help you process dairy. Lactobacillus acidophilus and Bifidobacteria are two of the most important strands of probiotics for digestive health and most studies in the field have focussed on these strands.
There do not appear to be any specific products targeting colon inflammation though, which is often a factor in the gut producing excessive gas, or bloating and diarrhea.
There are no fillers, carriers, binders or soy allergens in this remedy, and is safe for vegetarians as well as those who are gluten-intolerant.
Instructions
Take one, 2 or 3 capsules daily with water. Always proceed on the medical advice of a doctor, especially if you are pregnant or breastfeeding. Do not overdose on this product – even natural products carry risks when you overdose on them.
Do not give this to children, but buy the kids' formula instead.
Cost
A bottle of 90 capsules retails for $38.49 on Amazon. Depending on how much you take, this will last for 30 to 90 days.
Possible Side Effects
There should be no side effects, although some people report developing diarrhea. It should pass in a few days. Some consumers also report passing phases of sweats and other ailments, which could be because the body is expelling toxins.
Guarantee
There does not appear to be a monetary one. The manufacturer's promise relates to the quality – the fact that the product will arrive with a cold pack.
Garden of Life Raw Probiotics Women – The Bottom Line
We like the high live culture count and the fact that the product is shipped with a cold pack to preserve the integrity of the formula. Not everyone benefits from every single strand of bacteria available on the market, but these two strands are bound to be of some benefit, as they are powerful broad-spectrum strands.
On the other hand, the manufacturer does not provide guidance as to the time frame within an alleviation of IBS-like symptoms can be felt. If you take this indefinitely, which may well be required, it could end up being costly. We feel specific soothing agents in any preparation for IBS are important and of course from a consumer perspective, risk is seldom worth-it. It detracts from the veracity of a manufacturer's claims if they cannot confidently back it with a money-back guarantee.
Reviewed & delivered by our panel of experts at Reviewy.