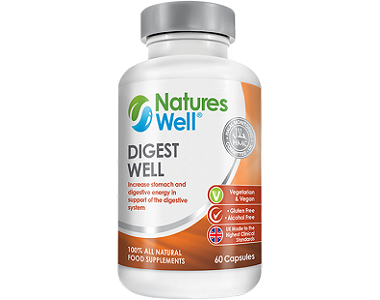 IBS
Updated November, 2023
---
Natures Well Digest Well Review
---
Manufacturer's Claim
This is a review of Natures Well Digest Well, a product claimed by the manufacturer to be an all natural and ancient formula to relieve indigestion, nausea, and flatulence. We shall assess the likelihood of this product as an effective solution and purchase choice for those suffering from irritable bowel syndrome (IBS). We will do this by looking at the ingredients as well as examining the customer service provided by the manufacturer.
Formula
Roasted Carom Seed Powder – 315mg
Ginger root powder – 105mg
Known as Ajwain, Carom seeds are anti-acidic seeds known to support digestive functioning by increasing gastrointestinal secretions. In doing so; this spice relieves stomach pain, bloating, indigestion, and gas release – which are symptoms associated with IBS. Ginger root is a popular ingredient used in IBS solutions for its anti-inflammatory properties that increase the strength of the stomach lining while reducing nausea and intestinal cramps. While these ingredients are known to be beneficial, the formula is missing other popular soothing ingredients such as aloe vera which may impact the product's efficacy. Furthermore, there is no sign of a probiotic included in the formula which may further assist with digestion by balancing the bacteria in the gut. This product is free from allergens and potential aggregators such as lactose, gluten, artificial ingredients, sugar, as well as yeast. There is no indication if this product was manufactured in a GMP certified facility which is unfortunate as it may imply quality ingredients and processes were not a priority during manufacture.
Instructions
To consume Digest Well as a dietary supplement, take up to 2 capsules daily with food. The dosage of the key active ingredients appears to be sufficient to offer some extent of symptomatic relief.
Cost
This product is available for purchase directly from the manufacturer's website. A bottle of 60 capsules (1 month's supply) will cost you $9,05, which includes a 30% discount that is currently available. There is no other package offers available. While this base price may appear very affordable, the cheap cost may indicate low-quality ingredients used – especially since there is no GMP certification. Furthermore, as the product is missing popular key active ingredients; long-term use may be required in order to experience any tangible benefits.
Guarantee
Natures Well offer a very limited guarantee. Only customers who received the wrong order have 14 days to initiate the refund policy, as long as the product is unopened and in perfect condition. This policy offers no customer support to those wanting to test product quality for themselves and suggests that the manufacturer has little to no confidence in the efficacy of this product. Furthermore, customer reviews are absent – offering no testimonial for the effectiveness of this product.
Natures Well Digest Well Review – The Bottom Line
Natures Well Digest Well appears to be an adequately dosed product with ingredients that have been known to relieve certain symptoms associated with IBS. However, the formula is lacking certain ingredients that would likely improve its ability to be effective. While the price is rather cheap, it may indicate a lack of quality ingredients used during manufacture. This notion is further supported by the absence of GMP certification. While there is a guarantee, it is highly limited and offers no real support to curious customers wanting to test this product. These reasons, combined with the lack of customer reviews, are why we do not recommend this product.
Reviewed & delivered by our panel of experts at Reviewy.