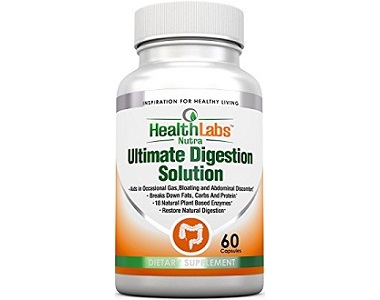 IBS
Updated September, 2023
---
Health Labs Nutra Ultimate Digestion Solution Review
---
Manufacturer's Claim
We turn our attention today to a plant-based capsule product that aids with the digestion of protein, carbohydrates and fats. The name? Ultimate Digestion Solution. It is made by Health Labs Nutra, who calls their preparation a maximum strength one. It also helps with occasional gas and bloating. This means if you are an IBS sufferer, this product could be for you, as improper digestion is on of the leading contributing factors to sluggish bowel evacuation. When food cannot be digested, it moves to the lower intestine where it ferments, leading to gas and bloating – and that terribly familiar feeling of sluggishness to boot.
The manufacturer places emphasis on the plant-based nature of the enzymes. Why so, and why not animal-based ones? The body can be both alkaline and acidic or more of one than the other, so the enzymes offered in a formula must be able to be effective whether the body is acidic or alkaline. Plant enzymes can achieve just this.
Formula
Each serving equals one capsule and contains:
Protease 1 – 20,000 HUT
Protease 2 – 4000 HUT
Acid Protease – 100 SUPU
Amylase – 5,000 DH
Lipase – 1,250 FIP
Cellulase – 500 CU
Glucoamylase – 50 AGU
Invertase – 200 SU
Catalase – 50 BU
Alpha Galactosidase – 50 Galu
Pectinase – 16.9 ENDO-PG
Xylanase – 250 Xu
Phytase – 10 PHY
Hemicellulase – 1000 Hcu
Lactase – 500 ALU
Lactase –  500 ALU
Bromelain – 500,000 PU
Papain – 500,000 PU
Peptidase – 160 DPPIV
Aloe Vera – 20mg
Resveratrol – 20mg
Senna – 15MG
Amylase is an enzyme that helps digest carbohydrates, while protease breaks down proteins. Lipase is a pancreatic enzyme that breaks down fatty acids. On the other hand, cellulase is critical to breaking down cellulose. Lactase helps you digest dairy and sugar properly, which is why if you have a dairy allergy you are called lactose-intolerant.
This preparation is fairly similar to at least one other plant-based formula but slightly more comprehensive, it would seem. It contains a wide spectrum of digestive nutrients and enzymes to help food pass properly through the digestive tract, which will enable regular waste removal and boost energy. The formula also contains agents which could soothe the colon. Often, digestive upset such as gas and bloating also inflames the colon, so the anti inflammatory components will help these ruptures heal.
Instructions
It is best to take these capsules before meals, not afterwards, if you are to get the benefit of digestion. Take 1 or 2 daily. Increase your dosage capsule by capsule until you feel the results you'd like. However, do not ingest more than 6 capsules per day.
Cost
You can purchase one bottle of 60 capsules for $29.99. If you go for the super saver option, it will cost you $79.97. This is a buy 2, get 1 free offer. However, you can also opt to buy 3 and get 3 free for $119.97.
Possible Side Effects
You may experience a bit of upset stomach at first as the enzymes and fiber go to work. This is why it is important to increased your dosage incrementally, and all at once. Remember that too much fiber aggravates conditions such as diverticulosis and IBS as much as too little fiber. Consult a doctor if your loose stool, for example, does not clear up after the initial 2 or 3 days of supplement use.
Guarantee
The manufacturer calls its product a free-from-risk purchase because it offers a 90-day money back guarantee. However, this is misleading as you have to return the unopened, unused bottles only and they must be in resalable condition. This gives you no opportunity to test the actual product.
Health Labs Nutra Ultimate Digestion Solution – The Bottom Line
The benefit of these plant nutrients and essential enzymes can be harnessed whether your body is in a state of alkalinity or acidity, which is a product plus-point. Enzymes play a critical role in food digestion and is one of the major factors in bowel and digestive tract disorders. If it's not particularly enzymes you're lacking though, this product probably isn't for you. It certainly won't hurt, even in that instance, to supplement your body with these enzyme-allied nutrients though.
It is a potentially good, full spectrum enzyme correction but a major detractor is the lack of a properly meaningful returns policy. Since you cannot use bottles prior to returning them, you have no way of testing the product. Consequently, Ultimate Digestion Solution is not the product for you if your are risk averse or not sure whether it is enzymes, and no probiotics or anything else your digestive tract is lacking.
Reviewed & delivered by our panel of experts at Reviewy.