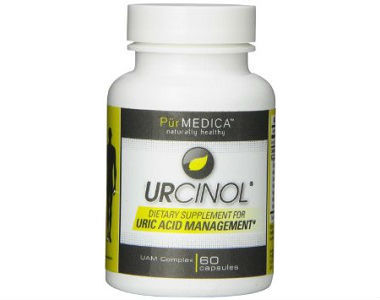 Gout
Updated November, 2023
---
PurMEDICA Urcinol Review
---
This is a review of PürMedica Urcinol.  PurMedica Urcinol is a natural dietary supplement that is promoted as a Uric Acid Management complex. The formula has been clinically prove to relieve gout and also to reduce the onset of future attacks. Gout is a type of arthritis that affects millions of people. It is cause by a uric acid accumulation up the blood and which then causes joint inflammation. There are two types of gout: acute and chronic. Acute gout is a painful condition that usually affects only one joint; Chronic gout is defined by repeat periods of pain and inflammation. With chronic gout often multiple joints are affected. We decided to conduct some independent research online.  Read on to learn more about this product and whether it is right for your situation.
Ingredients
This all-natural product contains an interesting list of ingredients.
Sodium — Retains water in the body to dilute uric acid so that it can be flushed from the body painlessly
Banaba (Lagerstroemla speciosa) leaf powder — Contains a compound called valoneic acid dilactone which blocks the enzyme that converts xanthine into uric acid. It also has diuretic properties and keeps kidneys healthy.
Acai (Euterpe oleracea) fruit extract — An anti-inflammatory which also contains antioxidants.
Bicarbonate of soda — This helps neutralize uric acid and controls pH level of blood.
Yucca filamentosa root powder — This reduces inflammation in joints.
Turmeric (Curcuma longa) root powder — This dissolves uric acid crystals that have formed in joints and relieves pain. Also enhances immune function.
Milk thistle (Silybum marianum) seed plant extracts — This keeps liver and kidneys healthy and allows the body to detoxify itself properly.
Artichoke (Cynara scolymus) leaf powder — This purifies blood
Celery (Apium graveolens) seed powder — This stimulates kidneys and increases expulsion of uric acid from body.
Other ingredients: Gelatin, cellulose, stearic acid, magnesium stearate, silicon dioxide
Dosage
Suggested usage of this product is two capsules a day, one in the morning and one an hour before bedtime. The capsules should be taken with a glass of water. It is also recommended that patients drink at least 8 glasses of water every day. No side effects have been reported. Contact a doctor if you do experience any side effects or allergic reactions to individual ingredients.
Price
A 60 capsule bottle costs $39.95. This is more than 50% higher than the monthly cost of other supplements like GoutClear.
Guarantee
The company offers a 90 day risk-free money back guarantee. The website has a "Doctor Trusted" certificate and the products are manufactured in an FDA approved facility following GMP (Good Manufacturing practices) norms.
Conclusion Of Our PurMEDICA Urcinol Review
This product seems to be a good choice.  However, while this a good product and made of natural ingredients, it is priced very high compared to similar products . Similar ingredients are found in many other gout remedies and are available at much lower prices and are very effective.
Reviewed & delivered by our panel of experts at Reviewy.