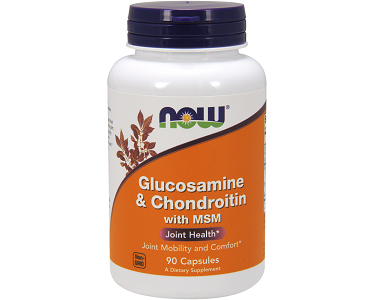 Gout
Updated September, 2023
---
Now Glucosamine & Chondroitin with MSM Review
---
Manufacturer's Claim
Gout is a form of arthritis that affects the joints and can be so debilitating that movement becomes severely constrained or impossible. In addition to conventional drugs, there are many natural remedies on the market purporting to help not only during a gout attack but in preventing it long term. The supplement we are reviewing today is Glucosamine & Chondroitin with MSM Capsules by the manufacturer Now.
What causes gout? The short answer is high levels of uric acid. The body produces uric acid in order to break down purines which occur normally in the body, or through food ingested. These purines are found in 'rich' foods, red meats such as steak, organ meat such as liver, sugary drinks and alcohol, as well as grains. There is also some evidence to suggest that a lack of proper flora balance in the gut contributes to gout because it prevents purines from being digested properly. If properly digested, it is passed out in your urine. If not, it forms crystals which cluster around the joints, causing agony.
Most gout remedies focus on including anti-inflammatories such as black cherry, turmeric and omega-3. This treatment focuses on key joint health ingredients, glucosamine and chondroitin. Now says Glucosamine & Chondroitin with MSM Capsules has been formulated to bring about joint health and comfort.
Formula
Each serving of 3 capsules contains:
Glucosamine Sulfate (from 1,500 mg Glucosamine Potassium Sulfate Complex) – 1,100 mg
Chondroitin Sodium Sulfate (from Bovine Cartilage) – 1,200 mg
MSM (Methylsulfonylmethane) – 300 mg
As you age, the fluid around the joints dries up. Glucosamine and Omega-3 are key to this fluid being a hydrated source of cushioning around the joints. When the joints are cushioned, it helps protect the joints from impact, injury and wear and tear. It is often derived from shellfish when found in dietary supplements., as indeed is the case here as the supplement contains shellfish.
Chondroitin sulfate is vital to connective tissue, cartilage, bone, skin, ligaments and tendons. When found in dietary supplements, the source is often bovine cartilage, as it is here too.
MSM in supplement form is artificially produced. It keeps tissue healthy and is an anti-inflammatory.
The doses of glucosamine and chondroitin are higher than average, so should have an anti-inflammatory impact at the height of an attack.
Instructions
Take one capsule 3 times a day, preferably with food. If you are nursing or pregnant, have a medical condition such as glaucoma or are taking other drugs, consult a doctor. Do not give this to children.
Cost
You can purchase a bottle of 180 capsules or a one month's supply on Amazon for $22,38. You can also purchase the 30- and 90-count bottles. These cost $12,52 and $14,53 respectively.
Possible Side Effects
Avoid this product if you have a marine produce allergy. There are no wheat, gluten, soy, corn, milk, egg, fish or tree nut ingredients but the product is made in a factory containing these allergens, so there may be trace amounts of these allergens present.
Guarantee
It does not appear that there is a refund or money back policy in place. If there is, it has not been clearly highlighted by the manufacturer.
Now Glucosamine & Chondroitin with MSM Review – The Bottom Line
The supplement does seem to be popular and rates fairly highly with consumers. It is not a traditional gout remedy in the sense that the typical ingredients such as black cherry are missing. You would probably need even higher dosages if you are having a severe attack and may need to increase it. This remedy is a long term one which may stave off future attacks, but it may not address the symptoms as quickly when you are experiencing the actual symptoms.
Some consumers complain of increased blood pressure, and this could be due to the high amount of sodium contained in the capsules. If you feel the product is not for you, look for one backed by a guarantee that has no additives, fillers or binders and is also free of preservatives. A good place to start is to look for a folic acid and black cherry-based formula, which we have come across and do find to be potent.
Reviewed & delivered by our panel of experts at Reviewy.