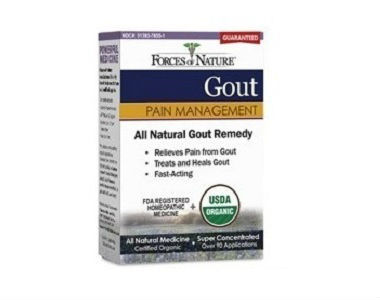 Gout
Updated May, 2022
---
Forces of Nature Gout Pain Management Review
---
This is a review of Forces of Nature Gout Pain Management.  This supplement is a natural painkiller that is deep acting and brings relief from gout pain. Gout is a type of arthritis that affects millions of people. It is cause by a uric acid accumulation up the blood and which then causes joint inflammation. There are two types of gout: acute and chronic. Acute gout is a painful condition that usually affects only one joint; Chronic gout is defined by repeat periods of pain and inflammation. With chronic gout often multiple joints are affected. This product claims to treat other symptoms of gout like swelling, inflammation and redness as well as heal joints. It acts by stimulating the immune system and returns mobility to joints. In addition, it contains herbs that sooth and nourish the joints. This medication is applied topically (directly on the skin of affected area) and claims to act faster than oral supplements that require time to be digested and processed. We decided to conduct some independent research online.  Read on to learn more about this product and whether it is right for your situation.
Ingredients
Ingredients include:
Arnica Montana — this relieves gout pain.
Urtica Urens — this relieves acute pain in joints.
Silica — this reduces swelling and inflammation.
Thuja Occidentalis — this brings relief from burning pain.
Inactive ingredients: French Pinus sylvestris oil, French Lavandula super oil, Napalese Matricaria recutita oil, Sesame oil.
Dosage
This medication can be rubbed on the affected area gently 3-4 times a day. It is for external use only and should not be applied on open wounds, blisters and damaged skin.
Side Effects
Some people may be allergic or sensitive to the oils used in this concoction and should avoid this treatment. If a rash appears or condition worsens, treatment with this product should be discontinued and a doctor should be consulted.
Price
The 11ml bottle is priced at $17.95 while the 33ml bottle costs $42.85.
Guarantee
The product is backed by a one-year guarantee where you can get a 100% refund if you are unhappy with the product. It also has a USDA Organic certification and is an FDA registered homeopathic medicine.
Conclusion Of Our Forces of Nature Gout Pain Management Review
There are many products being sold on the market making claims to be a miracle cure for your problems. Forces of Nature Gout Pain Management medicine is a topical analgesic that temporarily reduces the pain and inflammation of gout. It does not treat the condition but only relieves the sharp, burning pain associated with it. It is made from natural sources and is a certified homeopathic remedy. It also comes with a guarantee that further endorses its effectiveness. It is not priced too high and can be used as an accompanying treatment to your regular gout medication.
Reviewed & delivered by our panel of experts at Reviewy.