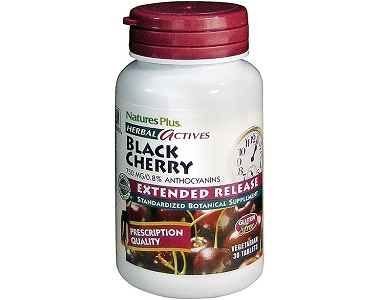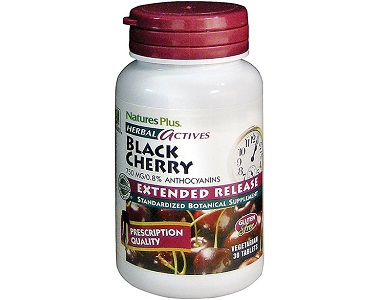 Gout
Updated September, 2023
---
Nature's Plus Herbal Actives Black Cherry Review
---
Manufacturer's Claim
This review looks at Herbal Actives Black Cherry as a remedy for gout. If you've experience a gout episode, you'll know the extreme, immobilizing pain this can cause in joints such as the toes and knees in particular. Gout is caused by high levels of uric acid in the blood. These cause crystals to form and accumulate in and around a joint. The result is severe joint inflammation and pain. The crystals would ordinarily be broken down by the kidneys and passed out as urine. Studies have shown that black cherry reduces inflammation and uric acid levels in the body.
Uric acid build up when the body has to break down purines. Purines are naturally occurring in the body. They are also found in foods such as red meat, particularly steak, and sugary foods, grains and alcoholic beverages. To beat gout, it is therefore to important to reduce uric acid levels by avoiding as many purines as possible or through a uric acid immobilizer such as black cherry.
Nature's Plus says its nutrient enzyme activation system liberates the antioxidant black cherry phytonutrients (plant nutrients) so you get the benefit of a release of these into the body around the clock, versus in just a once-off fashion.
Formula
Whole black cherry 750 mg, containing 6 mg anthocyanin
Anthocyanins are intense flavonoid compounds in cherries that lend these fruits their  antioxidant properties. They are also believed to restore the uric acid balance in the body. This formula contains about half of the 1500 mg cherry extract found in other capsules, but you could always increase your dosage to get the benefit of the anti inflammatory properties. The important thing about this supplement is its patented, around-the-clock release system, which could prove critical in a gout attack. This heightens the effectiveness of the anthocyanin as it will be absorbed at a higher rate and should therefore be more effective.
Instructions
Take one tablet daily or as recommended by your healthcare provider. Do not administer to children. If you are pregnant or nursing, only proceed on the advice of your doctor.
Cost
A bottle of 30 tables costs $12.09 on Amazon. Only one bottle size is available, and there appear to be no bulk discounts.
Possible Side Effects
The product is free from wheat, soy and milk allergens and vegetarian-safe. It is also hypo-allergenic. We note that it does contain magnesium stearate, which sometimes triggers migraines in migraine sufferers.
Guarantee
We could not find any evidence of a returns policy.
Nature's Plus Herbal Actives Black Cherry Review – The Bottom Line
The product is backed by independent laboratory testing. It gets fairly good customer reviews and contains a number of important enzymes as well. These enzymes will help to break down the purines, the cause of the uric acid build up in the first place.
The supplement should be a sound treatment in all but the most severe cases. It is not as holistic a remedy as it could be though, even though it will go some way to preventing future attacks. In the short-term, the swelling should go down and your mobility should return. For a complete approach treatment, look for one that also contains other antioxidants and works to increase diuretic fulfillment so that uric acid is constantly flushed out and prevented from spiking.
Reviewed & delivered by our panel of experts at Reviewy.