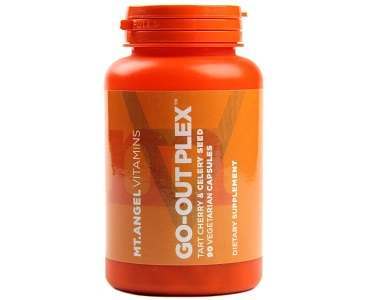 Gout
Updated April, 2023
---
Mt. Angel Vitamins Go-Out Plex Review
---
Manufacturer's Claim
Go-Out Plex is a blend of natural herbs, which work together to relieve symptoms of gout. In addition to their individual contributions, each of these ingredients help facilitate the functions of the others, according to the product's manufacturer. This supplement helps to regulate the production of uric acid in the body and it also promotes metabolism. It assists in dealing with circulation-related general discomfort, particularly in the extremities. Continue reading our Go-Out Plex review to know more about the product.
Formula
The major ingredients that make up the Go-Out Plex formula are:
• Black cherry 20:1 fruit extract (Prunus serotina) – 50 mg
• Bromelain 1200 GDU/g – 100 mg
• Celery seed extract (Apium graveciens) with 2.2% volatile oils – 800 mg
• Potassium (citrate) – 50 mg
• Tart cherry 4:1 fruit extract (Prunus cerasus) – 100 mg
• Turmeric root (Curcuma longa) – 10 mg
The manufacturer does not explain exactly how these ingredients work to relieve symptoms of gout. Other ingredients in the supplement include magnesium stearate, magnesium trisilicate, silica and vegetable cellulose. The formula does not include several ingredients such as preservatives, gluten, and sugar, according to its maker.
Instructions
The recommendation is to take two capsules a day with food and water. Alternatively, you can get advice on the dosage from a health professional. Water intake should be high, especially at the initial stage of use, in order to promote a reduction of uric acid.
Cost
The price of Go-Out Plex is a slightly discounted $24.41, down from $27.12, at the time of writing this review. This appears to be for a bottle of 90 capsules. You can buy it via the manufacturer's website or from third-party online retailers. The manufacturer also offers a further 15% discount if you subscribe to have the product delivered to you every month or so. However, there is no option to buy Go-Out Plex in bulk and save money. The price may vary between the different sellers.
Guarantee
There is some level of confusion on the availability of a money-back guarantee for Go-Out Plex. A "manufacturer warranty" limited to a year was mentioned on the product page. However, third-party websites state that you can request a refund only within 30 days of making your purchase. However, the manufacturer's website does not mention any further information about their one-year guarantee and how you can go about claiming a refund.
Mt. Angel Vitamins Go-Out Plex Review – The Bottom Line
Considering the ingredients used, Go-Out Plex may help in tackling gout symptoms and high uric acid levels. Its price is relatively pocket-friendly as well. But the manufacturer didn't provide sufficient information about the product. It merely mentioned the ingredients used without even explaining well how each one helps. Although there is a money-back guarantee, the details are not very clear. This supplement looks good, but it is not special among products that can help you to deal with the unpleasant symptoms of gout.
Reviewed & delivered by our panel of experts at Reviewy.