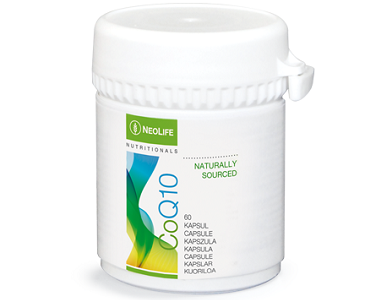 CoQ10
Updated October, 2021
---
NeoLife CoQ10 Review
---
Manufacturer's Claim
This is a review for NeoLife CoQ10, a dietary supplement that claims to benefit the user by supporting heart conditions, high blood pressure and Parkinson's to name a few. Its active ingredient Coenzyme Q10 is a vitamin-like compound, commonly found in various organs in the body, such as the pancreas, heart, and liver. This substance can also be consumed by eating certain foods like meat and poultry. However, CoQ10 can also be manufactured artificially.
Formula
Rice bran oil – 506 mg
Coenzyme Q10 -100 mg
Phytosterol concentrate – 100 mg
L-cysteine – 50 mg
Grape skin extract (standardized to 30% polyphenols) – 40 mg
Coconut oil – 20 mg
Sunflower lecithin – 20 mg
Grape skin extract (standardized to 10% resveratrol) – 10 mg
Other ingredients: Rice bran oil (Oryza sativa), gelatine, humectant: glycerine; phytosterol concentrate (7,58%), coenzyme Q10 (ubiquinone), L-cysteine hydrochloride, stabilizer: glycine, colour: calcium carbonate; grape skin extract (standardized to 30% polyphenols) (Vitis vinifera), sunflower lecithin (Helianthus annuus), stabilizer: beeswax; coconut oil (Cocos nucifera), grape skin extract (standardized to 10% resveratrol) (Vitis vinifera), colour: riboflavin.
The ingredients found in CoQ10, such as rice bran oil and grape seed extract have been suggested to help with blood pressure and cholesterol problems as they contain 'good fats' – however, there is limited evidence surrounding these claims. The CoQ10 in this product has been pharmaceutically produced, and while it may benefit the user is not present in its most natural form. The other compound found in this product such as sunflower lecithin helps support the nervous system, while coconut oil has many anti-oxidizing properties.
Instructions
It is suggested that you should take two capsules per day, with meals. It is also advised that you should not take more than the recommended dosage and that it is not safe for children to use. While conducting our research we were unable to identify, whether or not this product should be taken in the evening or during the day.
Cost
If you would like to buy NeoLife CoQ10, it would appear that you can do so via the manufacturer's website, but only as a NeoLife distributor. To find out where you could purchase this product or at what price it would be sold at in your country of residence, you would have to contact your local distributor.
Guarantee
As the average consumer is unable to purchase this product from the manufacturer's website, we were unable to pinpoint mention of a guarantee or returns policy.
NeoLife CoQ10 Review – The Bottom Line
It would seem that this product contains selected ingredients that have the potential to support and maintain healthy cholesterol levels and that there could be other health benefits linked to other compounds found in this dietary supplement. Sadly, this did not make up for the fact that as a prospective customer you are unable to buy this product easily. Add to this a lack of satisfaction guarantee and the limited information available on this supplement and our concerns grew. In conclusion to our review of NeoLife CoQ10 – we felt that this product was not a viable option for those seeking the best CoQ10 dietary supplement on the market, as it is difficult to purchase.
Reviewed & delivered by our panel of experts at Reviewy.