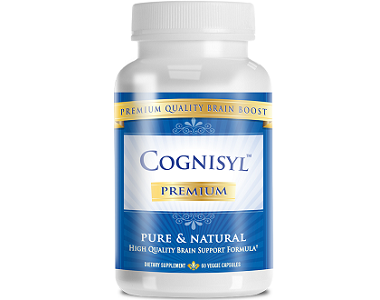 Brain
Updated October, 2022
---
Premium Certified Cognisyl Premium Review
---
Manufacturer's Claim
In this review, we will be looking at an excellent product called Cognisyl Premium from Premium Certified. According to the people who produced this product this supplement will help you to maintain the optimum functioning of your brain. Continued use of this product will help you to learn new information more effectively, improves your memory and helps you to discover the true potential of your brain. According to the manufacturer, this product contains a variety of carefully chosen ingredients that improve the functioning of your brain.
Formula
Magnesium – 75 mg
Vitamin B Complex – 50 mg
St. John's Wort – 200 mg
L-Tyrosine – 200 mg
Glutamine – 200 mg
Phosphatidylserine Complex – 150 mg
Choline Bitartrate – 120 mg
L-Theanine – 100 mg
DMAE Bitartrate – 100 mg
Acetyl-L-Carnitine -100 mg
Brahmi – 100 mg
Guarana – 60 mg
Alpha Lipoic Acid – 50 mg
Ginkgo Biloba – 50 mg
Huperzine A – 400 mcg
When we completed our research regarding the ingredients included in this dietary supplement, we found that it was an excellent formulation of ingredients. The Vitamin B complex helps concentration, gives you energy and regulates mood and brain development. The other ingredients included in the formula provide support for depression, mood swings, anxiety, insomnia, irritability, memory, and concentration.
Instructions
The recommended daily dosage for this product is two capsules daily. According to the manufacturer, you will notice the best results if you take one capsule in the morning and one capsule at night. Unfortunately, the manufacturer does not state if you should be taking this supplement with a meal or on an empty stomach. This may affect your body's ability to absorb the ingredients in this supplement.
Cost
You can find this product manufacturer's website for $48 per bottle. The manufacturer offers a wide variety of different packages that provide you with great savings. If you select the 6-bottle plan, you only pay $23 per bottle.
Guarantee
The company that manufactures this product offer a 90-day money back guarantee for anyone who buys it. If you are at all unsatisfied with the product you can return it and the manufacturer will refund 100% of the purchase price. We always feel like a guarantee is an indicator that the manufacturer believes in the quality of the product they deliver. We were also genuinely impressed by the fact that this product is certified by the Good Manufacturing Practice and is made in a facility that is FDA approved.
Premium Certified Cognisyl Premium Review – The Bottom Line
After we finished our review of this superb dietary supplement, we found that this is one of the best products available that help to relieve the symptoms of deteriorating mental functioning. This natural supplement does not contain any fillers or binders that could potentially damage your health even further. We were also really impressed by the thorough instructions provided by the manufacturer and by the fact that the majority of the people who reviewed this product believed they noticed a significant difference after using this product for an extended period. Additionally, this product is produced in an FDA registered facility, which means that you are assured that this product is safe and effective.
Reviewed & delivered by our panel of experts at Reviewy.