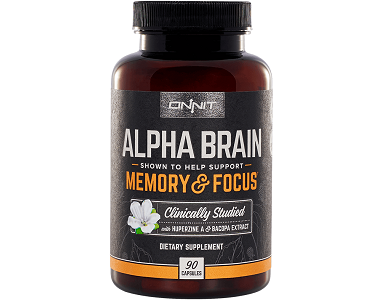 Brain
Updated April, 2021
---
Onnit Alpha Brain Review
---
Manufacturer's Claims
This is our in-depth review of Onnit Alpha Brain, a clinically formulated nootropic supplement to enhance brain function including but not limited to memory, processing speed and focus.
In today's increasingly frenzied, fast turnaround world, it is hardly surprising that nootropics, or drugs or supplements designed to optimize cognitive ability and mental agility have made their way firmly to the top of the to-buy health lists of many individuals. Onnit Alpha Brain is not a drug, but a dietary supplement made from earth-grown nutrients.
According to Onnit, the Alpha Brain supplement is formulated to fast-track and improve mental performance. Specific areas of improvement cited are focus, memory, processing speed, such as, for example, the ability to execute complex tasks faster or enhanced social performance by remembering names or recalling importance facts and anecdotes in conversation.
Ingredients
The ingredients per serving of 2 capsules are as follows:
Bacopa – enhances memory recall and general longevity, and contains antioxidant and adaptogenic properties.
Cat's Claw – contains antioxidant and immune-boosting properties.
Huperzia Serrata – Huperzine A is derived from this, which has neuroprotective and nootropic properties such as insulating the brain from loss of memory and cognitive function. It has been scientifically suggested as a possible treatment to slow down the progression of Alzheimer's disease.
Oat Straw (Avena Sativa) – improves cognitive performance by alleviating stress and exhaustion.
Vitamin B6 (as Pyridoxine HCI) – 10 mg
Onnit 'Flow blend', a mixture of L-Tyrosine, L-Theanine, Oat Straw Extract, Phosphatidylserine (650 mg)
Cat's Claw extract (350 mg)
Onnit 'Focus Blend' – L Alpha glycerylphosphorylcholine (GCP), Bacopa extract, Huperzia Serrata (240 mg)
Onnit 'Fuel Blend' – L-Leucine, Vinpocetine, Pterostilbene (65mg)
Alpha Brain's formulation contains no gluten or caffeine and only earth-grown products have been used. The exclusion of caffeine as a stimulant is good as the cumulative effect with other caffeine products could result in a quickened heart rate, higher blood pressure and jitteriness.
It should be noted though that 'earth-grown' is not synonymous with organic, as 'earth-grown' products could be taken to include the use of chemicals. The deliberate use of the term 'earth-grown' by the manufacturer calls into question the purity of the ingredients.
Dosage Instructions
Take one serving of 2 capsules morning or early afternoon, with a meal. The manufacturer warns against taking more than 3 capsules in any 24-hour period.
Cost
Alpha Brain can be bought online directly from Onnit at a cost of $29.71. There do not appear to be bulk discounts available.
Our research revealed that the product has not been available on Amazon for quite some time. It is not clear if and when the product will be available through Amazon again, or why it was withdrawn. We cannot verify if this is due to a lack of stock or lack of demand from Amazon buyers.
Guarantee
There is a keep-it money-back guarantee on the entry-level bottle containing 30 capsules. The guarantee is valid for 3 months. Only the first purchase of an entry-size product qualifies for a refund.
Onnit Alpha Brain Review – The Bottom Line
This earth-grown product delivers solid performance for most users. Unlike some other nootropics, Alpha Brain does not contain caffeine, which is best.
The manufacturer does not claim to be 100% organic. There is reason to believe that the cumulative effect of the ingredients could cause restlessness, nausea and an increased heart rate.
The product has received mixed reviews with some claiming it to be highly effective at improving cognitive function, with others citing no measurable improvement.
Reviewed & delivered by our panel of experts at Reviewy.