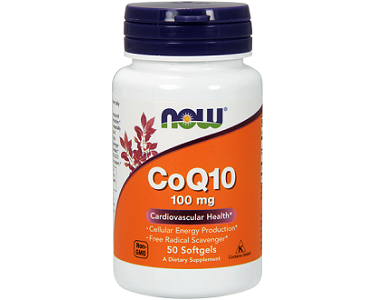 CoQ10
Updated September, 2023
---
Now Foods CoQ10 Review
---
Manufacturer's Claim
Welcome to this review of COQ10 100 mg Softgels by Now Foods. COQ10 is a vitamin-like substance critical to every cell in the body at a mitochondrial level – without this coenzyme which is ingested naturally into the body via food, cells cannot function properly. Most COQ10 is found in the liver, pancreas and kidneys. It was first discovered in 1957.
This formulation of COQ10 is designed to seek and destroy free radicals, the internal pollutants causing damage to cell walls. It is also formulated to aid cells in producing and releasing energy, a necessary function for the workings of the body as a whole.
By far the most studied effects of COQ10 is in the area of heart and vascular health, and it is the area in which this coenzyme is medically deployed the most. It strengthens and protects the heart, and brings blood pressure to within the normal range. It is also used in the medical management of diseases such as Parkinson's, Alzheimer's, breast cancer and HIV.
Formula
Coenzyme Q10 (CoQ10) – 100 mg
Vitamin E (from Mixed Tocopherols) (soy free) – 30 IU
Bovine gelatin
Water
Glycerin
organic caramel color
Organic Extra Virgin Olive Oil
Silica
Vitamin E and Coenzyme Q10 are the active ingredients. It is a sound combination as together, these two ingredients make for a potent free-radical-fighting tag-team. As a result, they will help to slow down the aging process as much as possible from the inside. Vitamin E is regenerated by COQ10 after slaying a free radical. Perhaps the most promising thing about this ingredient combination is studies that have been done in animals, where supplementing COQ10 with vitamin E has been shown to decrease and reverse early markers of heart disease. This is promising, although similar research is required in humans.
The rest of the ingredients make up the capsule which is both kosher and halal. It is also allergen-free (contains no soy, gluten, corn, dairy, egg).
Instructions
If you are over 21, take 1 or 2 capsules daily with food and with water, as food helps COQ10 to be taken up into the bloodstream. Ask your doctor first first if you are pregnant or breastfeeding, or on medication. If you are already taking blood pressure medication, for example, your doctor would be able to tell you if taking COQ10 would possibly lower your blood pressure too much.
The 100 mg dose contained in each capsule is a normal dose. Humans on average only ingest about 5 mg to 10 mg through food daily. But COQ10's effects are decidedly better the more you take, as studies have down. However, once you start taking over 250 mg or 300 mg you should not do so irresponsibly and a doctor should best be prescribing it because of its effects on vascular health.
If you're over 60, when COQ10 production is likely to have declined, try to take 200 mg to 300 mg daily, especially if you're on statins. If you're below 60 and in fairly good health, 50 mg to 100 mg should suffice.
Cost
On the manufacturer's website, a bottle of 50 capsules costs $21.99 and 150 capsules costs $55.99. Buying the upsized volume therefore yields a discount of about 25%. This is one of the higher-priced formulations. The cost increases when you think about having to possibly take two servings a day.
Possible Side Effects
Side effects are rare and not intense. They include nausea, heartburn and diarrhea.
Guarantee
Our research did not yield any evidence of a product guarantee, although many quality guarantees are provided. As different formulations do work slightly differently for individuals based on existing health, it is not a good idea to enter into a purchase that is not risk-free.
Now Foods CoQ10 Review – The Bottom Line
The vitamin E-COQ10 combo is one we like, given that it is a mutually beneficial synthesis, which brings out the best in both ingredients individually and collectively. It should lead to enhanced free radical harvesting and therefore slower cell degeneration. Energy release from cells and thus the numerous benefits throughout the body should be felt. The product is also allergen-free, kosher, and halal.
However, this is not a risk-free purchase, it seems. Anything that has an impact on vascular health in particular should come with a clear and dedicated returns policy. As a patient, you need to be able to opt out should you realise that it is not working well with your current medical regime, or should your doctor advise otherwise. In addition, the rather average dose tips the product into the expensive quadrant, as far as COQ10 supplements go. We recommend that at minimum, any COQ10 purchase you make should be refundable.
Reviewed & delivered by our panel of experts at Reviewy.