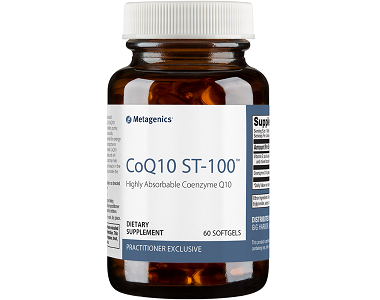 CoQ10
Updated November, 2020
---
Metagenics COQ10 ST-100 Review
---
Manufacturer's Claim
Prior to being discovered in 1957, little was known about COQ10, an important coenzyme that helps cells release energy so as to aid the workings of the entire body. This vitamin-like nutrient also contains high antioxidant density, which helps cells degenerate at a much slower rate. Since these vital scientific insights have been gleaned, many manufacturers have rushed to get COQ10 supplements to market. It is not so much the kind of COQ10 – ubiquinol and not ubiquinone that makes a difference – but the ease with which the formulation allows COQ10 to be absorbed into the body that significantly makes one product stand out versus another. It is small wonder then that Metagenic places huge emphasis on the purity of their product, COQ10 ST-100, and how stable and bioavailable it is. We are accordingly reviewing these claims.
This coenzyme is most studied and applied medically in the fields of heart, vascular and related diseases. You begin to produce less as you age, so taking it in supplement form is a good idea. In addition, if you are on statins for your heart, you may want to ingest more of this nutrient as statins suppress COQ10 production.
Formula
Coenzyme Q10 (ubiquinone) – 100 mg
Vitamin E (as d-alpha tocopherol and mixed tocopherols) – 100 IU
D-limonene Oil
Gelatin
Glycerin
Medium-chain Triglycerides
Water
Turmeric Powder (Color)
Zinc Oxide (Color)
The first thing to notice is that the coenzyme is in ubiquinone form, where as ubiquinol is often considered to be the purer form. This is because it is found in ubiquinol form in the body. However, top cardiologists doubt that there is a difference in effect between the two forms.
The second thing to note is the dosage. It is 100 mg, which is average.  Because the average human takes in 5 mg to 10 mg per day, you will definitely benefit from 50 mg to 100 mg. However, if you are over 60, your best bet would be taking 200 mg.
Thirdly, let us examine the stability the manufacturer talks about and why this is important. The body cannot absorb the normal crystalline form of this coenzyme. Consequently, a powdered form would be the worst. Doctors who have made COQ10 their field of study say that the preparation is crystal-free firstly if it is in ubiquinone form, and has been dissolved in vegetable oil in soft gelatin capsules. As a result, this formulation gets the seal of approval.
Finally, let's look at the inclusion of vitamin E. Together with COQ10, it makes for a powerful free-radical fighting duo. The sum of these two nutrients together is more powerful than each agent on its own. They also need each other to regenerate inside the body post fighting free radicals, so it is a win-win formula.
Instructions
Take one softgel capsule daily as directed by a medical practitioner. We recommend taking it with food, as this helps bioavailability. Consult your doctor if you are pregnant, breastfeeding or on medication.
We also recommend taking a 200g dose daily, especially if you are over 60 (see 'Formula').  Your doctor may even prescribe more if you are taking statins. Clear any dosage above 200 mg with your medical practitioner.
Cost
A bottle of 60 capsules (a 30- or 60-day supply depending on the dose you wish to take), retails for $62.73 on Amazon. Bigger bottles do not seem to be available. This is an expensive supplement, coming in at roughly double the cost of other COQ10 formulations.
Possible Side Effects
There should be no side effects, but cease taking the softgel capsules should you notice any adverse health effects. Do not overdose on the product. Mild nausea, headaches and diarrhea can occur but it is rare.
Guarantee
Although we researched all manufacturer policies, we could not uncover a clear money-back policy.
Metagenics COQ10 ST-100 Review – The Bottom Line
As we have seen under the Formula discussion, this highly absorbable formulation along with the inclusion of vitamin E means this formulation  ticks  the right boxes. Unfortunately, it is also more expensive than other supplements. The cost could become very expensive should you decide to take a 200 mg daily dose.
Unfortunately, too, COQ10 ST-100 does have allergens. Note that this product is made in a factory producing products containing soy, dairy, fish, crustacean shellfish, nuts, and tree nuts.
Besides the high price, the lack of a guarantee does not bode well. Given the scientifically sound formulation, the manufacturer should have every reason to be confident in its product and offer a returns policy. If this puts you off buying this supplement, but you still would like the heart, mitochondrial and antioxidant benefits of COQ10, look for a supplement containing a high availability at 200 mg or more that comes with an aid to absorption and is backed by a guarantee.
Reviewed & delivered by our panel of experts at Reviewy.