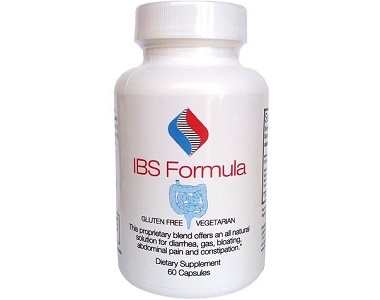 IBS
Updated August, 2020
---
IBS Formula Review
---
Manufacturer's Claim
There are so many natural products which claim to treat or cure disorders, however, most of these statements are merely just marketing ploys. In this review of IBS Formula, we will be taking a closer look at all the facts to see if this product lives up to its claims. The manufacturer advertises this product as a treatment for symptoms associated with IBS such as bloating, gas, diarrhea, and pain.
Formula
Proprietary Blend 1532 mg
Acai
Slippery Elm
Aloe
Chlorella
Walnut Hulls
Ginger
Inulin
Hyssop Leaf
Papaya
Lycopene
The ingredients in this formula help to break down foods ingested and provides soothing relief from gas and bloating, however, we noticed that this product does not include black pepper which has been proven to enhance absorption and increase the bioavailability of the natural ingredients. It also does not contain any vitamin D. patients who suffer from IBS have been linked to a vitamin D deficiency.
Instructions
This supplement should be taken daily. It is recommended that you take one capsule in the morning followed by a second one in the evening for the best results. The recommended dose should not be exceeded.
Cost
Each bottle contains 60 capsules which are about a month's supply. The product retails for $24.95 on the manufacturer's website and $25.95 if you purchase from third-party sites. There seem to be no discounts available for this product other than the auto-ship program which only offers savings of up to 12%. Consumers should always be cautious of auto-ship programs as they are hard to cancel and usually come with hidden costs.
Guarantee
In comparison to other leading brands, this product's guarantee policy is very weak. The manufacturer only allows bottles that have not been opened to be returned within 15 days of purchase. This does not say much about the effectiveness of the formula and consumers have a much higher risk of losing out on money if they find the product has not worked for them.
IBS Formula Review – The Bottom Line
While this formula may contain some ingredients that are beneficial without running the risk of adverse side effects, we feel that there are key ingredients such as vitamin D and piperine missing from this product. There is a very limited amount of feedback from end users which leads us to believe that this product is not very popular. Without any social proof or a guarantee to back up the claims, we don't feel that this is the most effective solution for providing symptomatic relief from IBS. There is also not enough clinical evidence to prove that this is, in fact, a treatment as the manufacturer has claimed it to be.
Reviewed & delivered by our panel of experts at Reviewy.