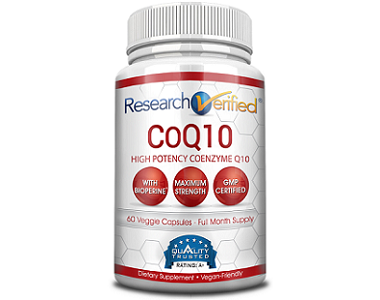 CoQ10
Updated January, 2020
---
Research Verified CoQ10 Review
---
Manufacturer's Claim
The following review will focus on CoQ10, manufactured by Research Verified. This manufacturer has done a lot of research to ensure their product contains the correct concentration and most effective ingredients to help reduce the risk of heart attacks and lower blood pressure, whilst also boosting cognitive energy. This is why their product is by far better than the rest. Read our review below to see what Research Verified CoQ10 can do for you as an effective dietary supplement.
Formula
Coenzyme Q10 – 250 mg
BioPerine (piperine) – 10 mg
The ingredient Coenzyme Q10 found in this product provides a minimum of 250 mg a day. This ingredient is essential as it helps reduce your risk of a heart attack, lowers blood pressure, balances cholesterol, and boosts cognitive energy. It is paired with a 10 mg dose of BioPerine, which helps absorb the main ingredient and improves its bioavailability.  The veggie capsules are made up of vegetable cellulose and rice flour and are safe for use by vegans. Furthermore, because it is pure, it contains no preservatives, hormones, fillers, binders, or artificial coloring. This product meets all the criteria for it to be effective.
Instructions
It is recommended that two capsules be taken daily. This should be taken 30 minutes before a meal with a full glass of water. If using continuously, take 1 capsule daily. This can be taken as a dietary supplement. These instructions are clear and leave no room for doubt.
Cost
Research Verified CoQ10 can be purchased online from the manufacturer's website. A single bottle will cost you $48. This is the current price after 31% has been deducted from the original price of $69.95. One can also purchase a 3-month supply for $33 each, giving you a total of $98. For an even longer supply of 6-months, you will pay $142. It is much more cost effective purchasing the 6-month supply as it takes time to feel a difference. Offering these discounts and bulk packages can really help a long-term user of this product.
Guarantee
The manufacturer offers a risk free 365-day 100% money-back guarantee on their product. If you are not satisfied with the results from the product, you are allowed to return it with the 365-day return period. This return policy is made available for customers who have opened and used their product as well as closed products. This is a strong return policy and will allow first time users to use the product without the risk of losing their money.
Research Verified CoQ10 Review – The Bottom Line
After reviewing Research Verified CoQ10, it is clear that this is a very effective cardiovascular and cognitive health dietary supplement. All criteria have been accounted for. The product contains the correct concentration and quality of Coenzyme Q10 and also has a 10 mg concentration of BioPerine. Furthermore, the manufacturer has offered their customers many options in purchasing the product. They provide discounts as well as several bulk options to choose from. Finally, the manufacturer has also offered a strong 365-day money-back guarantee on opened and unopened products. All these positive aspects show that Research Verified CoQ10 is an effective product.
Reviewed & delivered by our panel of experts at Reviewy.