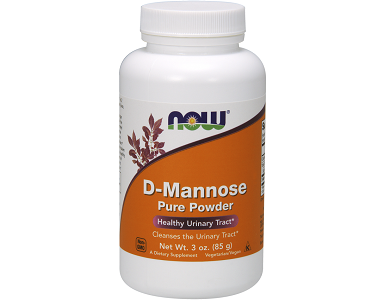 UTI
Updated April, 2023
---
Now D-Mannose Powder Review
---
Manufacturer's Claim
For anybody who has ever experienced a urinary tract infection (UTI) or any other sort of complications in their urinary tract, they understand the importance of maintaining urinary tract health. Now's D-Mannose Pure Powder claims to cleanse the urinary tract to optimise urinary tract health. D-Mannose is a naturally occurring simple sugar that metabolizes in small amounts in the body and is excreted through the urine. It interferes with particle attachment in the urinary tract and allows for everything to be flushed from the urine system. They claim that because insubstantial amounts of D-Mannose are used by the body, it does not interfere with healthy blood sugar regulation.
Formula
The only ingredient found in this product is 2000 mg of D-Mannose.
Instructions
Now D-Mannose Powder recommends taking one level teaspoon of powder 1 to 2 times daily with water or unsweetened juice.
This product is only for adults and it is recommended that pregnant or nursing mothers, those who have a medical condition or are on any sort of medication consult with their physician before consuming.
Cost
The price listed on Now's website for a 3 oz. bottle containing 43 servings of D-Mannose powder is $31.99. One 6 oz. bottle is listed at $59.99.
Possible Side Effects
Now D-Mannose Powder does not disclose any side effects on their website. However, when we conducted further research we found that those who have consumed D-Mannose have experienced loose stools and heavy bloating. Our research also found that anybody with diabetes should exercise caution when using D-Mannose because it can make it harder to control blood sugar.
Guarantee
Now offers users a 60-day money-back guarantee on items that are not used. They state that this guarantee is not offered to those who purchased from third-party resellers.
Now D-Mannose Powder Review – The Bottom Line
If you are looking to optimize your urinary tract health, Now D-Mannose is scientifically proven to do just so. However, Now D-Mannose promises only to promote urinary tract health and in our research, we found several other products who do the same but also alleviate challenging symptoms, such as burning, and also prevent future infection by nourishing and boosting the immune system. We found it shocking that on their website, Now D-Mannose clearly states that it does not interfere with healthy blood sugar regulation and in our research, we found that that is false information. D-Mannose can certainly interfere with blood sugar regulation and it is recommended for anyone with diabetes to consult with their physician before consuming D-Mannose. When we further researched the integrity of the company we were displeased and concerned to see that Now has recently had a major recall of six of their products because of mislabeling. We concluded that for anyone looking to improve their urinary tract health, Now D-Mannose is a satisfactory option if only looking to optimize health but there are products available on the market that do more than Now D-Mannose does. Considering that their money-back guarantee only applies to unused bottles and that they have had a recent major recall, we feel that purchasing Now's D-Mannose puts the consumer at risk.
Reviewed & delivered by our panel of experts at Reviewy.