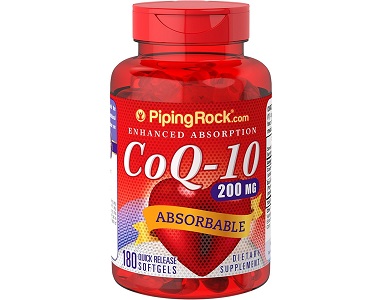 CoQ10
Updated February, 2023
---
Piping Rock Absorbable CoQ10 Review
---
Manufacturer's Claim
The manufacturers of this dietary supplement claim that their product promotes heart health, but also ensures healthy blood pressure levels. It also supports the brain. This supplement is packed with antioxidants defend and protect the body from free radicals. It removes cholesterol, thereby ensuring that blood circulation is flowing freely. What is to follow is a review on Piping Rock's dietary supplement Absorbable CoQ10 200 mg.
Formula
Coenzyme Q10 (ubiquinone) – 200mg
Black pepper extract (piper nigrum) (fruit) (standardized to contain 95% piperine) – 200 mcg
Other ingredients: rice bran oil, gelatin, vegetable glycerin, soy lecithin, annatto extract (natural color), titanium dioxide (natural color).
The compound CoQ10 is found in every cell in the human body. It produces energy the body needs to function correctly. Researchers have also found that this substance is good for the heart, brain, and overall health. However, this compound is not easily absorbed. Black pepper increases the uptake of this antioxidant. The quantity of CoQ10 (200 mg) is good compared with other, similar, products on the market, although the best dosage is 250 mg of CoQ10. This product does contain ingredients which could be problematic for some people's dietary needs. It contains soy, therefore those with soy allergies should avoid this product. In addition, as it contains gelatin it is not suited for vegans or vegetarians.
Instructions
The manufacturer suggests a dose for adults of one (1) or two (2) capsules per day, with food. Pregnant women, nursing mothers, or those on prescription medication, should speak to their doctor before taking this supplement.
Cost
A 180-capsule bottle is sold online at $25.49 (discounted by 29% from the original purchase price). However, our research found that this product is sold out on most of the online sites offering this product. There is also no mention of when supplies will be replenished.
Possible Side Effects
Even though the manufacturer does not indicate outright any side effects, it is mentioned that, if any negative reactions occur, you should stop taking this supplement, and see a doctor immediately.
Guarantee
The manufacturer offers a guarantee. If a consumer within the US is displeased with the product, it may be returned (used or unused), together with a reason for the return, within one year, for a refund or credit (excluding shipping and handling fees). For any orders outside of the United States, only unopened bottles may be returned within 60-days from purchase. Refunds are made, minus the shipping, and a 20% handling fee.
Piping Rock Absorbable CoQ10 Review – The Bottom Line
This dietary supplement has a good amount of CoQ10 in its formula. The addition of black pepper means that the CoQ10 is more readily absorbed by the body cells, where it is used to produce energy. In addition, for orders from the United States, consumers have a full year to try out the product: if it fails to deliver, they can return it for a refund. However, international buyers are not that lucky: the return policy is very limited and you may not receive a full refund. Another issue with this supplement is that it is simply not available online to buy.
Reviewed & delivered by our panel of experts at Reviewy.