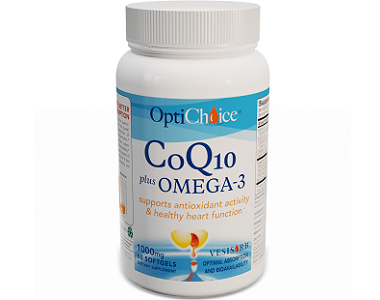 CoQ10
Updated November, 2023
---
Opti Choice CoQ10 plus Omega 3 Review
---
Manufacturer's Claim
Opti Choice has formulated a product which claims to deliver 6 times better absorption of ingredients that are beneficial for the health of your heart. The manufacturer claims that this product contains the highest and purest concentration of Coenzyme Q10, EPA, and DHA for more stamina, endurance, and energy.
In this review of Opti Choice CoQ10 plus Omega 3, we look at the facts to see if this product lives up to the claims.
Formula
Vitamin E  – 10 IU
Omega Choice Purified Fish Oil – 1000 mg
EPA – 650 mg
DHA – 100mg
Total Omega-3 Fatty Acids – 850 mg
Natural Coenzyme Q10 (Ubiquinone) – 200mg
Other Ingredients
VESIsorb Microemulsion Preconcentrate
Medium Chain Triglycerides
Nonionic Surfactant
Sucrose Fatty Acid Esters
Gelatin
Glycerin
Ascorbyl Palmitate
Coenzyme Q10 is naturally produced within our bodies and plays a crucial role in producing energy, preserving heart health, slowing down aging and reducing cholesterol levels. Omega 3 is also essential for heart, eye, brain and immune health. While these ingredients seem promising, research indicates that additional ingredients compromise the purity and quality of the Coenzyme Q10 content. It is advisable to look for a formula that contains pure CoQ10 without any additives for effective results.
Instructions
The manufacturer recommends taking two or more capsules daily with food. It is concerning that the manufacturer does not stipulate how many capsules should not be exceeded considering they advise to take two or more without any indication of what the "more" should be limited to. The dosage is fairly high and could pose potential health risks if taken incorrectly.
Cost
A bottle of 60 capsules can be purchased online for a retail price of $39.95 from the manufacturer. The manufacturer does not offer any bulk purchase deals or discounts for this product and when we researched further, the product is out of stock on the manufacturer's website and on third-party retail sites.
Possible Side Effects
There does not seem to be any warnings about side effects put forth by the manufacturer, however, research shows that ingesting 300 mg or more of Coenzyme Q10 can cause rashes, nausea, abdominal pain, dizziness, sensitivity to light, irritability, headaches, heartburn, and fatigue. This is important information that should be disclosed to the consumer.
Guarantee
Opti Choice offers a 1-year guarantee on its products should you not be satisfied with the product. The unused contents of the bottle will be refunded to the consumer, we are not sure if that means the full amount you paid will be refunded or if it is just based on the unused portion in the bottle. It is advisable to inquire about this first before you run the risk of losing additional money if you find this product has not worked for you.
Opti Choice CoQ10 plus Omega 3 Review – The Bottom Line
We like the fact that this product only contains natural ingredient and that the manufacturer offers a money back guarantee, however, we do have some concerns. The additional ingredients may compromise the quality, potency and the effectiveness of the CoQ10. The dosage is also alarmingly high especially if you consider the "more" to be four or five capsules daily, this may cause adverse side effects and pose a potential risk to your health. The price seems to be fairly expensive and based on the fact that there are no discounts or bulk purchase options, it may land up costing you more than you bargained for in the long run. Based on our findings, it may be in your best interest to look for a purer form of CoQ10 that is affordable and guaranteed to work without causing any side effects.
Reviewed & delivered by our panel of experts at Reviewy.