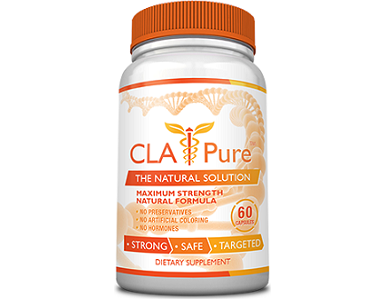 CLA
Updated June, 2023
---
Consumer Health CLA Pure Review
---
Manufacturer's Claim
This review is for a product called CLA Pure the manufacturer has formulated a product with a key ingredient, premium quality safflower oil which contains the highest CLA percentage to ultimately deliver a product which will give the consumer outstanding results. CLA Pure has been formulated to increase the metabolic rate, increase muscle strength, enhance exercise endurance, boost the immune system, and keep cholesterol levels in check. This product promises to ensure weight loss (especially in areas like the stomach, bottom, and thighs), as well as assist with the overall health of the body.
Formula
CLA Conjugated linoleic acid 85% – 2 000 mg
CLA is  derived from Safflower oil is a naturally occurring fatty acid that helps the body burn fat while increasing muscle strength. It also helps to boost and promote a healthy immune system and maintains cholesterol levels. This product is free of additional preservatives, chemicals, binders and fillers which means the potency and quality of the natural ingredients have not been compromised at all.
Instructions
Each bottle of CLA contains 60 softgel capsules. One capsule to be taken twice daily with water.
Cost
One container of softgel capsules at a price of $49.95 which includes a discount of 20%, if 2 containers are bought the manufacturer offers a 50% discount if 4 containers are bought the manufacturer offers a 64% discount, as well as great limited offer specials.
Possible Side Effects
A warning goes to nursing or pregnant women, to consult with their healthcare practitioner before taking this supplement.
Guarantee
A 60-day risk-free 100% money back guarantee is offered by the creators of this product. If the consumer feels that the product is not suitable for them, it may be returned within 60 days. The manufacturer offers this guarantee on opened and unopened items, no questions asked. The product is manufactured in a FDA laboratory and conforms to USP standards. The product is also manufactured under guidelines of the US food and drug administration's cGMP certification.
Consumer Health CLA Pure Review – The Bottom Line
CLA PURE a product that gets a 10 out of 10 when taking into consideration purity, quality, effectiveness, and safety. This effective, powerful formula made of 100% pure ingredients has everything to offer as it contains no binders, fillers, or artificial ingredients. The manufacturer offers the consumer total satisfaction as this supplement has been doctor formulated and endorsed, has an outstanding guarantee, has excellent customer reviews and is insured by a third-party monitoring company for maximum consumer protection.
Reviewed & delivered by our panel of experts at Reviewy.