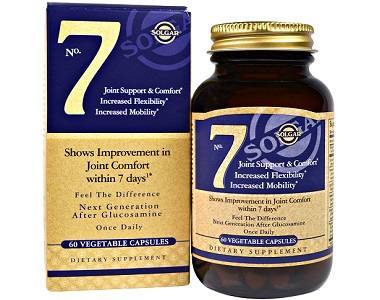 Joints
Updated September, 2023
---
Solgar No. 7 Joint Support & Comfort Review
---
Manufacturer's Claim
Solgar No. 7 Joint Support & Comfort uses bio-active nutrients which the company asserts create a fast acting approach for occasional 'tweaks' and joint stress brought on by exercise, sport or physical activity. As you get older, you take longer to recover from a hard workout and joint pain becomes much more common. Now Solgar, which has produced dietary supplements for 70 years, is offering these vegetable capsules as an herbal supplement to help your joints heal better.
The bio-active nutrients in this product affect the body's release of joint enzymes which help to balance joint stress and daily wear and tear and reduce joint pain. This is done with targeted mediators which balance and temper joint enzymes. For people on special diets as well as vegans, this product is free of gluten, wheat, dairy, soy, yeast, sugar, sodium, artificial flavors, sweeteners, preservatives, and colors.
The manufacturer states that Solgar, No. 7 Joint Support & Comfort allows a user's joints natural ability to flex and cushion themselves during exercise, increases mobility and range of motion and claims that improvement is shown within seven days.  This Solgar, No. 7 Joint Support & Comfort review examines these claims.
Formula
Vitamin C  – 100 mg
5-Loxin Advanced (Boswellia serrata Extract [resin]) – 100 mg
Turmeric Root 4:1 Extract (equivalent to 200 mg of root) – 50 mg
UC-II Standardized Cartilage (providing 10 mg Undenatured Type II Collagen) – 40 mg
White Willow Bark 5:1 Extract (equivalent to 175 mg of root) – 35 mg
Ginger Root 4:1 Extract (equivalent to 140 mg of root) – 35 mg
Pepper Spice Complex including Cayenne Powder and Bioperine (Black Pepper Extract) – 27mg
This product does not contain glucosamine and chondroitin which are used to form healthier cells in the joints and are common in a lot of other joint supplements
Instructions
For adults, it is recommended to take one vegetable capsule daily, or as directed by a healthcare practitioner. There is nothing impractical with this dosage, except that it lacks the two most important ingredients for joint health:  glucosamine and chondroitin.
Cost
Suggested retail price is $25.70 for one bottle which contains 30 tablets.
Purchase online and pay only $20.56
Possible Side Effects
Unfortunately the manufacturer lists no side effects, but some cited elsewhere include:
Nausea
Headache
Dizziness
Abdominal pain
Diarrhea
Guarantee
Unfortunately the manufacturer offers no guarantee for Solgar, No. 7, in spite of boasting that it takes effect within seven days.
Solgar No. 7 Joint Support & Comfort Review – The Bottom Line
There are positive benefits when it comes to using this dietary supplement for joint pain. The first is obviously that it is natural and contains no gluten, animal or dairy extract which can be harmful for people who suffer from certain allergies and are not eaten by vegans. Solgar, No. 7 also offers an alternative to chemical based traditional medications and needs to be taken only once a day.
Unfortunately, there are a number of negatives too. There is no money back guarantee offered here which is troubling. There is also no real offer of proof behind its claim to show results within seven days and Solgar does not acknowledge negative side effects which users have listed.
Reviewed & delivered by our panel of experts at Reviewy.