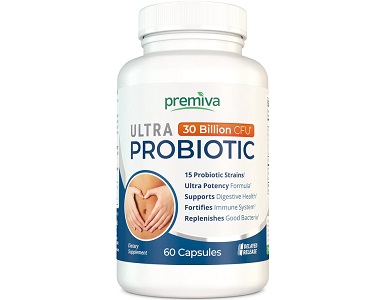 IBS
Updated October, 2022
---
Premiva Ultra Probiotic Review
---
Manufacturer's Claim
Premiva claims that their Ultra Probiotic supplement provides unparalleled intestinal support for improving bowel function. The product is designed to combat uncomfortable symptoms associated with Irritable Bowel Syndrome (IBS). Premiva argues that their formula provides the highest CFU count for optimal results and has several additional health benefits. This review of Premiva Ultra Probiotic will assess the truth of these claims to help you make an informed purchase.
Formula
Proprietary Probiotic Blend – 30 Billion CFU
FOS (Fructooligosaccharides) – 25mg
This product contains a Proprietary Probiotic Blend of 15 strains of good bacteria. The bacteria in this blend include L. Acidophilus, L. Rhamnosus, and B. Longum to name a few. The aim of this formula is to balance bacteria in the gut and, thus, remedy symptoms associated with IBS. The formula is designed to boost immune strength, promote weight loss, increase nutrient absorption, prevent the buildup of toxins, and alleviate irregular bowel movements. The addition of FOS (Fructooligosaccharides) may provide improved benefits. This ingredient primarily works to protect the digestive tract from unhealthy bacteria and support the growth of healthy bacteria. That said, the ingredient is known to induce negative side effects for people with a low tolerance to fructose. These side effects are counterintuitive to the goal of this product as they induce symptoms of IBS. While this is a major concern, it is positive to note that the product has been manufactured in a cGMP certified facility. This certification suggests that the formula is of a relatively high standard.
Instructions
Consumers should take two (2) capsules daily. The manufacturer does not indicate when they should be taken or if they should be consumed with meals. Each serving provides 30 Billion CFU of the Proprietary Probiotic Blend. Premiva states that this high concentration will deliver optimal results, however, further research suggests that this is not necessarily the case. A high CFU count does directly impact the product's ability to provide superior relief. Many competing products contain the same CFU count and, therefore, it is neither too high nor low.
Cost
The product can be purchased online from Amazon. A one month supply (60 capsules) will cost you $26.97. This is not too costly, however, there are no discounts to further entice a consumer purchase. Prolonged use of this product may become expensive as there are no bulk-buy deals.
Possible Side Effects
The manufacturer states that users should not exceed the recommended dose. They also suggest that pregnant or nursing mothers and children under the age of 18 should not consume this product. This is most likely linked to the fact that FOS (Fructooligosaccharides) can cause bloating, cramps, and diarrhea. These uncomfortable reactions completely contradict the intention of the product. We recommend discontinuing use if you experience any of these.
Guarantee
The manufacturer does not offer a guarantee. Guarantees depend on the retailer. Amazon, for example, offers a guarantee on products that have not been opened. This suggests that they are not confident in the product as the user's who are not satisfied with results are not eligible for a refund. There are mixed reviews for this product. Some customers have complained that it was not potent enough to deliver optimal results.
Premiva Ultra Probiotic Review – The Bottom Line
The product contains a substantial amount of good bacteria which may prove beneficial for IBS. The fact that this product is reasonably price is an appealing selling point. Howbeit, the formula may induce negative side effects. There are no discounts to encourage prolonged use. There is no manufacturer guarantee to support efficacy. And, a few customer reviews argued that the product was ineffective. Therefore, we do not recommend Premiva Ultra Probiotic.
Reviewed & delivered by our panel of experts at Reviewy.