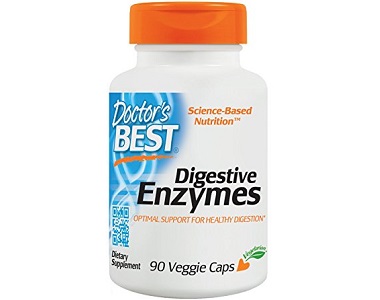 IBS
Updated January, 2022
---
Doctor's Best Digestive Enzymes Review
---
Manufacturer's Claim
Read our review below on Digestive Enzymes, manufactured by Doctor's Best. This manufacturer claims that this product is able to support the body's own digestive capacities. The enzymes within each capsule are able to digest proteins, fats and carbohydrates effectively. In addition, this product will support the intestines for optimal health.
Formula
Amylase blend – 20,000 DU
Protease SP Plus Blend – 95,000 HUT
Dipeptidyl-peptidase lv – 250 dpp-lv
Bromelain – 50 gdu
Papain – 500,000 fcc pu
Invertase – 100 lnvu
Cellulase – 3250 cu
Beta-glucanase – 65 bgu
Alpha-galactosidase – 500 galu
hemicellulase – 750 hcu
Xylanase 650 xu
Phytase -10 ftu
Glucoamylase – 50 agu
Lipase – 3000 fip
Lactase – 1000 alu
Bacillus subtilis – 1 billion CFU
Modified cellulose (vegetarian capsule)
The combination of these enzymes works to help you digest food better, thereby allowing maximum nutrimental benefit of each nutrient.  Each enzyme breaks down different foods. For instance, lipase, which is a pancreatic enzyme, and the enzymes phytase, invertase, and hemicellulase, break down carbohydrates. The enzyme papain digests proteins, and helps with the absorption of nutrients. Cellulase breaks down the plant fiber cellulose, whereas beta-glucanase helps with the breakdown of glucose bonds found in whole grains such as oats and wheat. In addition, bacillus substilis helps to keep the gut healthy, and supports a good immune system, as well as ensuring effective digestion.
Instructions
The manufacturer suggests that 1 (one) capsule be taken with each meal, daily. As each bottle contains 90 capsules, this supply only refers to a three-meal maximum daily intake of food.
Cost
A 90-capsule bottle (one month's supply) is available to buy online at third party sites, not directly from the manufacturer. For instance, on Amazon, this product is sold at $23.66 which includes shipping. A subscription offer is also available on which you can save 5%, or 15% if you subscribe to a minimum of five products. However, you will be locked in, and the fees will be automatically be deducted from your credit card when the shipment has been sent. No other discounts or package deals are offered.
Guarantee
Despite our research efforts, we were unable to locate a manufacturer's guarantee. Therefore, the return policy depends on the third-party sites on which the item has been bought. For example, with Amazon, the standard return policy is that the items be returned within 30 days of purchase, unused, to receive a refund. The lack of a guarantee does raise some concerns about the effectiveness of this product.
Doctor's Best Digestive Enzymes Review – The Bottom Line
This product, which is filled with enzymes that help to digest and keep the gut healthy, has a considerable number of reviews. According to our research, 90% of the reviews on Amazon alone are of high quality. More so, this formula contains bacillus subtilis which is extremely important for gut health and for support of the immune system. However, it should also be mentioned that this product lacks a guarantee, meaning that if it doesn't work for you, you will not have your money returned. Furthermore, as it is a product that should be used daily, over the long term it can become extremely pricey. There are no discounts available unless you wish to be locked into a subscription service.
Reviewed & delivered by our panel of experts at Reviewy.