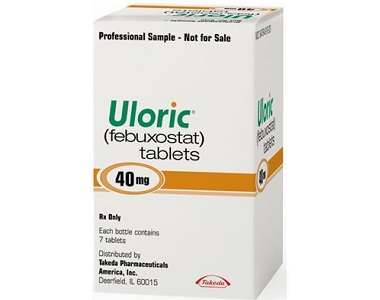 Gout
Updated March, 2021
---
Takeda Pharmaceuticals Uloric Review
---
Manufacturer's Claim
Uloric is a drug that is used for controlling uric acid levels in the blood. The target users are individuals suffering from gout. This drug, also known as febuxostat, helps to lower blood uric acid levels in individuals with gout. As you may be aware, high amount of uric acid is responsible for gout that is usually characterized by painful, swollen joints. The medication assists in reducing the uric acid amount that your body produces. It is specifically for use by adults. You must have also had a history of gout for it to be an appropriate choice for you. The manufacturer says Uloric compared very well against another popular rival in clinical studies, in terms of efficacy. How useful is this product? Find out in our Uloric review.
Formula
We were not able to find the ingredients that feature in this drug while researching for this review. It seems that it contains febuxostat. This is a prescription medication.
Instructions
The recommended dose of Uloric is 40 mg or 80 mg once a day. You can take the drug with or without food. The appropriate dosage will depend on your medical condition and how well you respond to treatment. It is important to note that you may need a prescription from a doctor before you will be able to access this product.
The manufacturer says you may experience a flare-up of gout when you start taking this drug. But you should not stop using if this happens. Your doctor may give you certain medications to deal with the new gout attacks that may go on for months.
Possible Side Effects
In addition to your gout flaring up, febuxostat may produce certain unpleasant side effects. The common ones include:
• Joint pain
• Nausea
• Rash
• Liver problems
The manufacturer says a small number of strokes, heart attacks, and heart-related deaths were recorded during clinical trials. However, it claims that it wasn't clear if the drug was responsible for those outcomes.
Febuxostat may also interact with other drugs and you should not take this product if you are taking Azathioprine or Mercaptopurine.
Cost
The price of Uloric was not found on its manufacturer's website. But certain online sources put the retail price of a package containing 30 40mg tablets at about $300. You should consult with your health insurance to determine if this product is covered.
Guarantee
There appears to be no money-back guarantee for this one. It is not common for drugs of this kind to come with an offer of such. So it is not surprising that we did not come across any mention of one being available.
Takeda Pharmaceuticals Uloric Review – The Bottom Line
Uloric looks like a product that can help in controlling uric acid levels and fighting gout. Its maker says it compared very well, even better, against another popular drug in clinical studies. The company also provides important safety information to take note of before use. However, one of the disadvantages is that the drug can bring about more gout attacks. It also produces certain other side effects. The price appears high and it is not likely you will get any money-back guarantee when you buy. There may be better options on the market that are more natural and have fewer side effects.
Reviewed & delivered by our panel of experts at Reviewy.