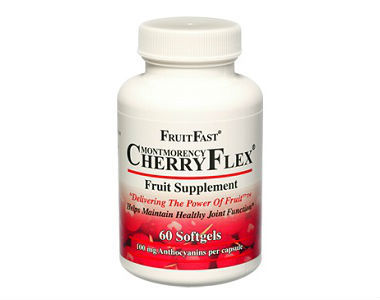 Gout
Updated August, 2020
---
CherryFlex Review
---
This is a review of CherryFlex.  This product is made using Montmorency tart cherries and contains antioxidants and anthocyanin. It is intended as a treatment for gout.  Gout is a type of arthritis that affects millions of people. It is cause by a uric acid accumulation up the blood and which then causes joint inflammation. There are two types of gout: acute and chronic. Acute gout is a painful condition that usually affects only one joint; Chronic gout is defined by repeat periods of pain and inflammation. With chronic gout often multiple joints are affected.
This product keeps the joints healthy, prevents muscle soreness and also helps you sleep better. Antioxidants are good for the immune system and cardiovascular system. Unlike most other cherry supplements which are freeze-dried or made of concentrated juice, CherryFlex contains whole tart cherries with their nutritional content intact. This supplement is available as easy to swallow softgels. We decided to conduct some independent research online.  Read on to learn more about this product and whether it is right for your situation.
 Ingredients
This product contains:
Tart cherry paste;
Olive oil;
Glycerin;
Water;
Sunflower lecithin;
Beeswax.
Dosage
The recommended suggested dosage is two capsules a day.
Side Effects
Containing only cherry paste as an active ingredient, this product does not cause any side effects. CherryFlex does not contain gluten and so does should cause the associated allergic reactions. Contact a doctor if you do experience any side effects or allergic reactions to individual ingredients.
Price
A bottle containing 60 capsules is priced at $29.95. However, third party sellers on Amazon offer a discounted price of around $21.95 with free shipping in the US. While this price is not exorbitantly high when compared to other gout supplements that contain cherry only it is  expensive. Multi-ingredient supplements like GoutClear are more reasonable priced.
Guarantee
The product does not come with any guarantee. However, the amount of cherry paste in each capsule is standardised at 800mg, keeping the supplement's potency relatively consistent. Consumers want to feel confident in trying out a new product. It is disappointing that this product does not offer the security of a money back guarantee. Many comparable products offer guarantees.
Conclusion Of Our CherryFlex Review
The benefits of red tart cherry in treating gout have been proven over the years and any supplement that contains this ingredient will be effective to some extent. CherryFlex is better in quality than most other cherry supplements because it contains whole cherries as opposed to the freeze-dried cherries or cherry juice other products use. Most of the antioxidants and anthocyanins are contained in the cherry skin and do not get transferred to the juice, so cherry juice is less effective in controlling gout. However, this product is almost double the price of most freeze-dried cherry supplements available in the market, which are only slightly less effective.
Even though CherryFlex is natural, it does not come with a guarantee and does not have any certifications.
Reviewed & delivered by our panel of experts at Reviewy.