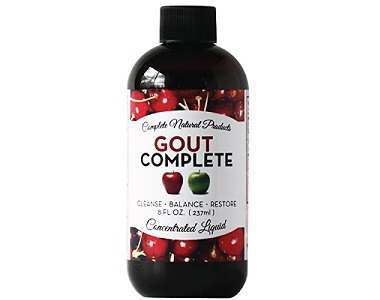 Gout
Updated September, 2023
---
Complete Natural Products Gout Complete Review
---
Manufacturer's Claim
Gout Complete is a liquid solution that is designed to help regulate uric acid levels and support kidney function. This makes it a potentially beneficial product for fighting gout. What should you expect from it? This liquid preparation is a 100% natural product that helps to deal with symptoms of gout. It does this by regulating the levels of uric acid in the blood. It dissolves the mineral buildup and impurities in joints, including toes and fingers. Gout Complete claims to prevent pain, inflammation, stiffness and other symptoms of gout by doing this. Continue reading our Gout Complete review to know more about it.
Formula
The formulation is said to feature only natural ingredients, which are 35 in number. These include:
Raw organic apple cider vinegar
Beet extract
Garlic
Calcium citrate
Honey
Tart Cherry juice
Cinnamon
Devil's claw root
Fennel seed
Hibiscus
Turmeric
L-Arginine
L-Lysine
Magnesium
Lemon juice
Milk thistle
Pomegranate
Peppermint
White willow bark
Potassium
Zinc
Stevia
Taurine
Sodium Hyaluronate
The formula also contains vitamins B and C, natural juices, and organic flavorings.
Beet extract is a natural detoxification agent. Tart Cherry juice helps to fight joint inflammation and boost the immune system. Activated apple cider vinegar helps regulate your blood pH level, same as zinc and the natural juices. Hibiscus, honey, and turmeric all help to fight inflammation. Magnesium reduces gout-related pain and nerve damage.
It is unclear of the quantities of these ingredients in the product.
Instructions
The recommended daily dose of Gout Complete is one ounce mixed with four ounces of water, as needed. The directions then state that initially this should be done twice a day and is only recommended for the first two days of treatment. So these directions are slightly unclear. This suggestion seems to be only appropriate when experiencing a gout flare-up. For maintenance, you only need to use two ounces a week or even a month. This product should be stored in the refrigerator.
Cost
You can buy Gout Complete for $24.95 online via the manufacturer's website. The price is for an 8-ounce bottle. The 4-ounce and 16-ounce bottles sell for $13.85 and $45.95 respectively. It does not seem that customers can get any discounts on bulk purchases.
Guarantee
Your purchase of this product comes with a 60-day money back guarantee. If you are not pleased with the results you get, you can ask Complete Natural Products for a refund. But you should note that there are conditions to requesting a refund. For example, you may not be eligible for a refund if you have not used the suggested amount of the product. You should ensure you understand the full terms for a refund before making your purchase.
Complete Natural Products Gout Complete Review – The Bottom Line
This product looks like a credible one for dealing with uric acid and symptoms of gout. It appears to have no side effects and offers buyers a money-back guarantee. However, this refund policy is a bit strict and seems that it may be difficult to get a refund on just any purchase. The fact that Gout Complete contains so many ingredients also means you will need to watch your supplement use. This will be useful in guarding against the problem of overdose, especially as this product does not specifically mention the quantity of the ingredients. We think there may be better products on the market with clearer information.
Reviewed & delivered by our panel of experts at Reviewy.