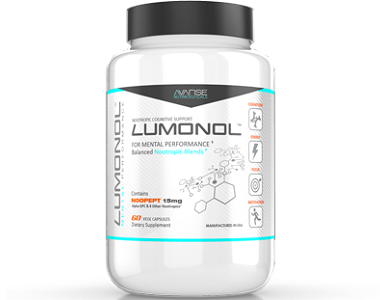 Brain
Updated January, 2022
---
Avanse Laboratories Lumonol Review
---
Manufacturer's Claim
We are going to take a look at Lumonol, a product by Avanse Laboratories, in this review. This product has 3 key benefits, nal=mely to improve cognitive performance, concentration, and speed. Ultimately being a brain enhancer and energy booster. Noopept, an acetylcholine booster is the core ingredient and an effective nootropic, claimed to help with brain functions and memory. Lumonol is a brain supplement used by people who want to improve their work performance and be able to show their true potential. To learn more about Avanse Laboratories product Lumonol, read our review below.
Formula
Memory Blend – 285 mg
Noopept – 15 mg
Panax Ginseng
Alpha GPC
Focus Blend – 500 mg
Acetyl L-Carnitine
L-Tyrosine
Phosphatidylserine
Energy Blend – 375 mg
Vitamin B12 (Methylcobalamin)
Hordenine
Lumonol is a blend of three components which claims to aid in enhancing brain function, concentration, and memory. One capsule is a total of 1160mg nootropic ingredients, made up from the memory, focus and energy blend. The formulation contains 15 mg of Noopept, which is part of the memory blend. This list of ingredients appears to be good, although there is no indication if this product contains preservatives, artificial coloring or gluten. Lumonol contains caffeine. This brain supplement is enclosed in a vegetarian capsule.
Instructions
It is recommended by Avanse Laboratories that one test the supplement first, by drinking 1 capsule daily for a few days. After this test period, it is recommended that 2 capsules be taken daily with meals. They suggest taking 1 capsule in the morning and 1 in the afternoon – avoiding the use of this product in the evening as it may cause restless nights. When using Lumonol, one must stay well hydrated and only use the product within the directions given.
Cost
Lumonol can be purchased online from the manufacturer's website. It costs $59.97 for one bottle, containing 60 capsules. One can also buy in bulk – 3 bottles for $119.97. There is also an option to subscribe to save more money. A single bottle will then cost you $47.97. Alternative package deals have free domestic shipping.
Possible Side Effects
The manufacturers do not list any possible side effects, however, the incorrect usage of this product may be hazardous to one's health. Lumonol is intended for persons above the age of 18 years old. Pregnant and nursing individuals should not use this product. Persons with pre-existing medical conditions should consult a health care professional prior to use. Avanse Laboratories states caution for the use of this product as it may be very strong for sensitive persons and the effects of the product accumulate over time. They advise that one take a 2-day break every 7 days as well as a 30-day break from the use of their product after every 90 days. Based on customer reviews, it was found that many people were dissatisfied with the product.
Guarantee
The manufacturer offers a 90-day money-back guarantee. Opened and unopened bottles need to be returned to ensure a refund.
Avanse Laboratories Lumonol Review – The Bottom Line
Lumonol is produced in a cGMP approved facility and filled with many components which claim to improve brain function and memory, including Noopept. The ingredients list looks good, however, there are no third party tests that we can find. Another concern that we have is that the Lumonol may be too stimulating for certain people and that there are so many major concerns and that is why we cannot recommend this product.
Reviewed & delivered by our panel of experts at Reviewy.