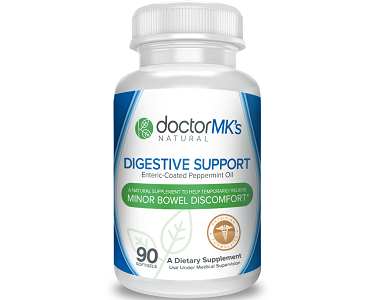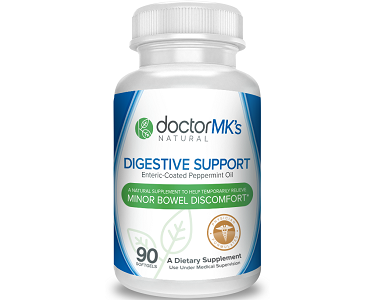 IBS
Updated November, 2023
---
Doctor MK's Natural Digestive Support Review
---
Manufacturer's Claim
This is a review of the dietary supplement Digestive Support Enteric-Coated Peppermint Oil.  It is alleged by the manufacturer of this product that it can provide relief from minor bowel discomfort. The health product is aimed at people suffering from Irritable Bowel Syndrome (IBS). The symptoms of IBS include gas, bloating, constipation, diarrhea, and stomach pains.
Formula
Enteric coated peppermint oil – 181 mg (1 capsule)
Other ingredients include ginger oil, fennel oil, soft gel capsules, soybean oil and naturally occurring silicon found in ginger root. Enteric-coated peppermint oil is useful for treating the symptoms of IBS, and to support digestion. Peppermint has a relaxing and calming effect on the stomach. This substance also improves the flow of bile so that fats are more readily digested. Peppermint oil helps to relax the muscles, reducing stomach pains. However, the inclusion of ginger also helps with digestion. Fennel oil helps ease symptoms of IBS, such as gas, diarrhea, bloating and constipation. The inclusion of the ingredient soybean oil is questionable, however: this substance could worsen IBS and lead to gas, bloating, and diarrhea, or at least it could cause inflammation. More problematic is that most sources of soy contain GMO (genetic modified soybeans).
Instructions
The suggestion is to take one (1) capsule once to three times a day before meals. The manufacturer of this product does not indicate at which time of day taking this dietary supplement would be the most effective.
Cost
A 90-capsule bottle costs $32.82 on the third-party site Amazon. This is a 5% ($1.25) discount from the original price. There is also a subscription service on which you can save the same percentage, paying the same amount as a once-off purchase. If you have a subscription on five products you can obtain a 15% discount. However, you will be locked in, and the amount  automatically deducted from your credit card.
Guarantee
Irrespective of our research efforts, we were unable to find a manufacturer's guarantee on this product. This supplementation product is sold on Amazon (and, as is the case on other third-party sites) therefore this product is subject to the selling company's return policy. If you buy via Amazon, therefore, you will have 30 days to return the (unused) product.
Doctor MK's Natural Digestive Support Review – The Bottom Line
This dietary supplement contains all-natural ingredients, therefore there are no known side effects as with most chemical formulas. Ingredients seem to be of moderate strength, suited to the treatment of minor symptoms of IBS. However, the product contains more of the active ingredient than other, similar, products on the market. This dietary supplement does not come with a firm guarantee protecting the consumer and allowing for the product to be tested, therefore assuring customer satisfaction. Our research found that only 76.7% of the 248 reviews on the website Amazon alone were reliable, with 23.3% of seemingly low quality, involving deception. The site (namely Amazon) had deleted 46 reviews. This does raises some red flags about this health product.
Reviewed & delivered by our panel of experts at Reviewy.