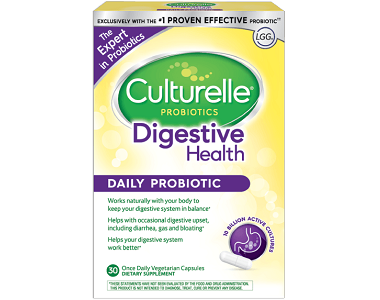 IBS
Updated December, 2021
---
Culturelle Digestive Health Daily Probiotic Review
---
Manufacturer's Claim
Today we review Digestive Health Daily Probiotic Capsules by Culturelle. The product as labeled is designed to help your digestive system function better, to help alleviate occasional excessive gas flare ups, and to keep the flora in your digestive tract in balance. In the context of IBS, it is therefore formulated to help with mild to moderate symptoms.
IBS affects millions of Americans – it is estimated that between 15% to 25% of the population is either afflicted by the disease, or has symptoms that show up on the disease spectrum to some extent. This malfunction of the lower intestine is mainly due to a digestive inability brought on by a lack of good bacteria in the gut, a lack of specific enzymes required to break down the food and inflammation of the colon.
Digestive Health Daily Probiotic Capsules contains naturally sourced, clinically studied ingredients – one probiotic and one prebiotic – to restore good gut health.
Formula
Lactobacillus rhamnosus GG  (LGG) – 10 billion
Inulin (chicory root extract) – 200 mg
Hydroxypropyl Methylcellulose
Sucrose
Maltodextrin
Sodium Ascorbate
Magnesium Stearate
Silicon Dioxide
Titanium Dioxide
Only the first two ingredients are active ingredients. LGG is the most clinically studied of all the probiotic strands and makes a positive impact on digestive processes when ingested by most people. You may need more of one strand and less of another, due to your own make up. The manufacturer says that the content is 100% pure LGG. LGG is documented as being able to help with immunity and many gastro-internal conditions and diseases.
Inulin is high in fiber and another great probiotic source. This high fiber content will help to stimulate the bowel into evacuating waste. As a result, you should feel less bloated and flatulent. The dosage is appropriate for most people and won't have an overly stimulating effect.
Instructions
If your symptoms are bad, take 2 capsules, 1 in the morning and 1 in the evening. If it is an average-symptom period, 1 capsule a day will suffice. It is not suitable for children 12 and under. Take it 3 days before travelling on a trip if you are prone to your bowel not moving properly in a foreign environment.
You should start to see an improvement in 2 days but this will vary from person to person. This is a high concentration count, one of the highest on the market.
Cost
You can purchase a bottle of 30 capsules for $15.35 on Amazon. It will last for 2 weeks or 1 month, depending on your symptoms.
Possible Side Effects
You may experience mild bloating and gas or a change in bowel patterns initially, due to your gut's altering environment. Consult your doctor if this persist for longer than 2 weeks.
Guarantee
The first course of recourse urged with this product is to pursue your refund from the store of purchase. If this does not succeed, you may submit your return – an unused or open bottle – within 90 days. You must complete the paperwork and follow the prescribed process. You may return a maximum of 2 bottles.
Culturelle Health Digestive Health Daily Probiotic Capsules – The Bottom Line
Consumer reviews for these capsules are generally good – but do bear in mind that it will depend on the severity of your symptoms, and the existing probiotic constituency of your gut. It contains the highest concentration of LGG, a broad-spectrum probiotic that is a management aid in many digestive disorders. Without good bacteria from probiotics, your gut may be overrun by bad bacteria, causing stomach upset, bloating, gas and more.
Should you give this product a shot – sure, if your symptoms are mild to moderate? The formulation is expressly not for severe symptoms and we concur with the manufacturer's assessment of its preparation. For best results, look for a probiotic with a dual-prong approach – the inclusion of enzymes is great, as is a soothing agent such as aloe for the gut.
Reviewed & delivered by our panel of experts at Reviewy.